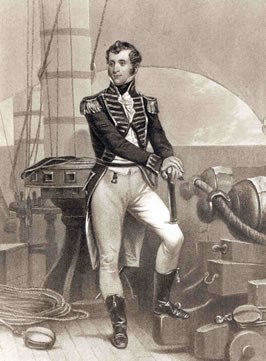 "Battery Decatur, formerly known a Emplacement "B" was changed to its present name by General Order 43 dated April 4, 1900." This was the first modern artillery position built for the Defense of Washington. Battery Decatur is named in honor of Commodore Stephen N. Decatur, a native of Maryland who served with distinction during the War with Tripoli and the War of 1812.
WORK BEGAN
Lieutenant Colonel Peter C. Haines was the engineer officer assigned to the Defenses of Washington. Plans for Emplacement "B" were approved in July 1891 and work began immediately. There was no approved plan for a 10-inch battery so those for an 8-inch battery were used for the initial work. The foundation was laid out, personnel assigned and engineering equipment collected at the site. In August, concrete specifications were released and excavation began in September. Construction continued until the fall of 1893 when it was suspended to await specifications for a 10-inch disappearing carriage. The plans were received in July 1895 and active operations began September 26, 1895. By then a small gauge railroad hauled supplies from the dock and a concrete mixing machine was set up at the battery site. The guns and carriages were received in 1896.
GUNS MOUNTED
Troops were sent from Washington Barracks to mount the guns. In January 1897, Battery G, 4th U.S. Artillery mounted the gun and carriage at position number two. Battery I, 4th U. S. Artillery mounted gun number 1 in February 1897. Battery Decatur cost $128,492.00 when the it was formally turned over to the artillery garrison on July 6, 1899.