The Historic Hangar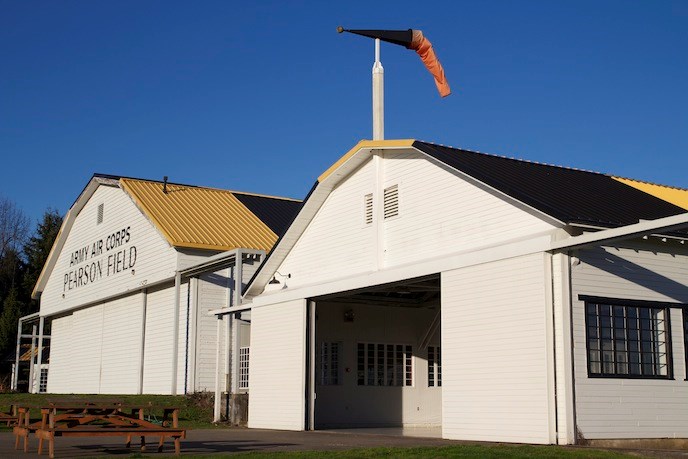 Pearson Air Museum Historic Hangar
Built in 1921, the historic building was operated by the U.S. Army Signal Corps' Spruce Production Corporation. Around 1924, the building was moved to its present location by the Army Air Service.
"This building is an especially significant one, as exemplified by its listing on the National Register of Historic Places," explained Dr. Bob Cromwell, museum manager.
The Historic Hangar, with its character and glamour of bygone eras, can be adapted to any special event. A picturesque view of the 7 acre grounds, and high ceilings without losing intimacy to your event.
See images of the Historic Hangar in our Historic Hangar Photo Gallery.
Amenities
Hangar Doors open up to create a scenic outdoor space
Large Windows along the entire south wall of the hangar
High ceilings provide a variety of audio/visual entertainment possibilities
A beautiful well maintained white floor
Neutral interior
No Shortage of available power
Interior Restroom access
Easy unloading and loading
ADA approved facility
Hangar interior measures 49 ft x 104 ft totaling 5,096 sq ft
Venue Specific Information
Address
Pearson Air Museum, 1115 E. Fifth Street, Vancouver, WA, 98661, adjacent to the main museum hangar
Capacity
The hangar holds a maximum up to 300 people banquet style, depending on layout and event activity. Theater style seating up to 400.
Accessibility
The venue is wheelchair and stroller accessible. Accessible restrooms are available.
Equipment
The hangar includes an accessible restroom, access to electricity, tables, and chairs.
Parking
Pearson Air Museum has 42 parking spaces available for use in the main parking area. Parking on designated public parking areas of Fifth Street is available as well; however street parking may also be used by the public and cannot be guaranteed. No parking is permitted on any grassy area adjacent to the Pearson Air Museum.
Reservation Information
To reserve the Historic Hangar for your event or special occasion submit an application with a $100 fee to the park event coordinator at the Visitor Center located at Pearson Air Museum. Learn more about obtaining an application form here.
Application Fee
A $100 application processing fee is due with the application. This fee is non-refundable, and may be paid by check (made payable to National Park Service), credit card, or cashiers check. Payment of the application fee does not guarantee that the National Park Service will issue a permit. Complex applications and proposed activities may require more extensive review; in these cases, a permittee may be charged an additional processing fee.
Recovery Cost
Under CFR 36.8 guidence, Fort Vancouver National Historic Site is able enter into Short Term Leasing with the members of public. Through this program the properties are maintained and preserved while allowing for members of the public to enjoy the Historic Hangar at fare market value. Under this program, groups are able to hold functions that normally are not allowed an National Park Grounds. Email us for fee schedule and information:
General Guidelines
Your special use permit does not grant access to Pearson Air Museum. The Historic Hangar is located adjacent to the Pearson Air Museum with permitted use limited to the Historic Hangar. For increased privacy, it is recommended that you schedule your event outside of Pearson Air Museum's operating hours. Hangar doors can be opened to allow for air circulation, natural light, and a magnificant view. The event must remain within the Historic Hangar Permitted Footprint.

Due to the archaeological significance of the site, ground disturbance, including the use of stakes, is prohibited.

To protect parklands and wildlife, the releasing of balloons, doves or butterflies, and throwing of rice, birdseed, flower petals or other natural or artificial material is prohibited.

The use of special equipment, such as canopies, arches, chairs, or other decorations may require park administrative review and are not allowed in certain areas. Please discuss your decorating plans with park staff and consider using the existing landscape as your backdrop.

Torches, fires and other sources of open flame are prohibited. Candles may be allowed.

Music, both amplified and non-amplified (acoustic), may be permitted upon request, and must be managed at a level not to exceed 85 dB measured at the perimeter of the event.

Free standing directional signs related to the event are permitted and are to be removed immediately after the event. Affixing directional signage to government property is prohibited. Any posted signs will be immediately removed. Please coordinate with park staff on the placement of event signs.

Transportation vehicles, including but not limited to horse-drawn and electric carts, are prohibited outside of paved roadways.

The sale of all merchandise --including but not limited to T-shirts, clothing, and arts and crafts--and vending of food/beverages on park land is prohibited.

Alcohol may be consumed on site, but may not be sold. If you anticipate serving alcohol at your event, please let the National Park Service staff know during the permitting process.

Prior to and immediately following the event, a National Park Service and permittee representative will complete a Facility and Equipment Checklist indicating the condition of the Historic Hangar.

All decorations and trash must be removed from the park within the permitted time period; should park staff find it necessary to perform additional cleanup or repair damage upon your departure, you will be billed for these costs.

Additional documents may be required, including a Certificate of Insurance, a performance bond, and/or a permit from the City of Vancouver. The National Park Service staff member facilitating your request will discuss these with you as necessary, depending on the size, scope, and type of activity being proposed.

Please also review the park's General Guidelines for Special Events.
For questions, please e-mail or call the Reservation Coordinator at (360) 816-6241.
Last updated: December 29, 2017