Revealing Our Past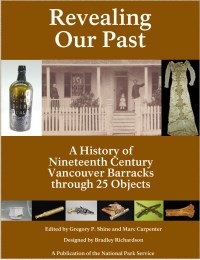 What was life like at the Army's Fort Vancouver and Vancouver Barracks in the mid-to-late 1800s? What went on there, and how did it compare to other places?
What role do tangible items in historical archives, museum collections, and archaeology play in helping us understand our collective past?
In Revealing Our Past: A History of Nineteenth Century Vancouver Barracks through 25 Objects, our 2013 Public History Field School seeks to answer these questions and also illustrate the national significance of Vancouver Barracks as a unit of the national park system today.
An enhanced version of the book--with video, external links, enhanced images, and interactive historic artwork--is available as a free download on Apple's iBookstore through iTunes. Search iTunes for
Revealing Our Past
or c
lick here to access the book in iTunes.
Last updated: December 13, 2017