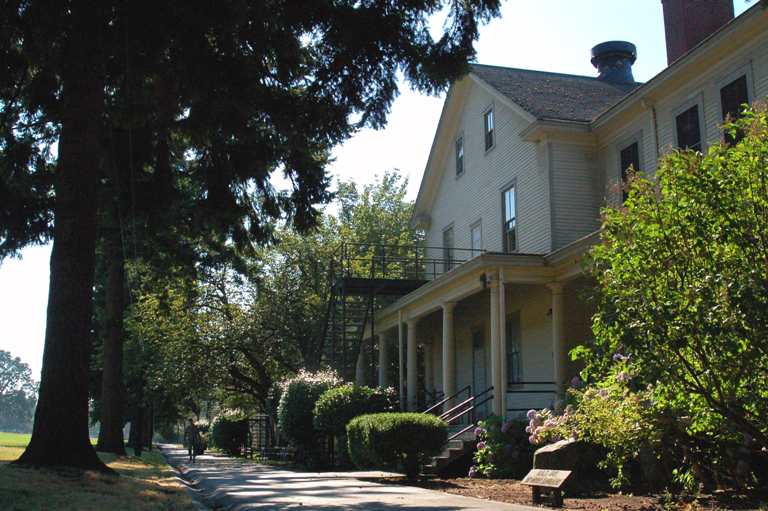 News Release Date:
January 3, 2013
Contact: Bob Cromwell, (360) 816-6253
The National Park Service (NPS) is pleased to announce that the Finding of No Significant Impact (FONSI) document for the East and South Vancouver Barracks Draft Master Plan and Environmental Assessment was signed by the Pacific West Regional Director on December 20, 2012. The document, including errata, is part of the Environmental Assessment, and completes the necessary environmental compliance to allow the NPS to move forward with the preferred alternative presented in the document.
"This is a great day for the National Park Service and the East and South Vancouver Barracks," said Superintendent Tracy Fortmann, "The completion of the environmental compliance process and the Environmental Assessment will allow us to implement the preferred alternative presented in the Master Plan."
The East and South Vancouver Barracks were transferred from the U.S. Army to Fort Vancouver National Historic Site on Memorial Day, May 28, 2012. The preferred alternative, developed by the National Park Service in cooperation with agency partners and members of the community, envisions the East and South Barracks as a dynamic, sustainable public service campus, with a mix of public offices, museum spaces, businesses, shops, and restaurants. This vision will be accomplished through adaptive reuse of existing structures through long-term leases with public and non-profit agencies, as well as private sector organizations.
The entire FONSI document, along with the edits to the Environmental Assessment, which are presented as errata, can be found online at https://www.parkplanning.nps.gov/fova.
BACKGROUND: Fort Vancouver National Historic Site is one of the 397 national parks that make up the National Park System and it is located in both Washington and Oregon. This national park is also the heart of the Vancouver National Historic Reserve, which is located in Vancouver, Washington. The Vancouver National Historic Reserve brings together a naitonal park, a premier archaeological site, the region's first military post, an international fur trade emporium, one of the oldest operating airfields, the first national historic site west of the Mississippi River, and a waterfront trail and environmental center on the banks of the Columbia River. The partners of the Reserve teach visitors about the fur trade, early military life, national history, and pioneers in aviation, all within the context of Vancouver's role in regional and national development. The National Park Service's vast array of public programs -- including living history events, festivals, cultural demonstrations, exhibits, active archaeology, and other special activities -- serve communities in Washington and Oregon and create a dynamic, fun, and unique tourist destination for people of all ages.
EXPERIENCE YOUR AMERICA: The National Park Service cares for special places saved by the American people so that all may experience our heritage.