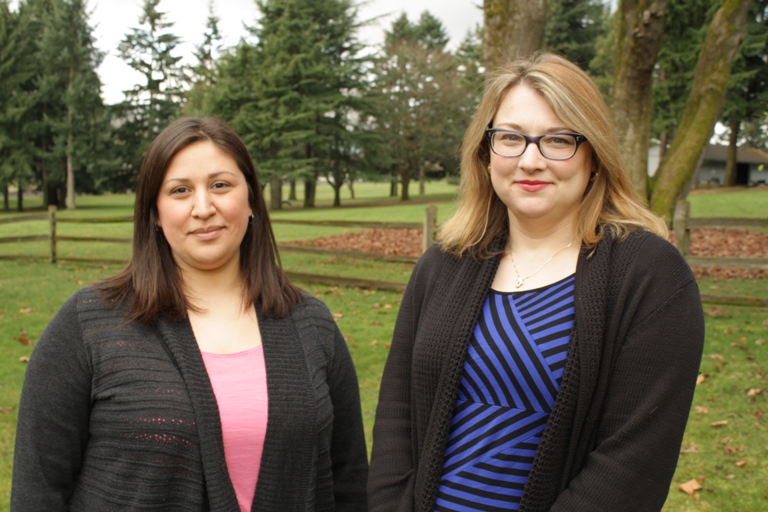 News Release Date:
February 7, 2013
Contact: Tracy Fortmann, (360) 816-6205
Recently, Fort Vancouver National Historic Site welcomed two new employees who bring a wealth of experience and business acumen to the park's staff.
Kristen Jontos is the Business Manager for the East and South Vancouver Barracks, part of Fort Vancouver NHS. In this position, Jontos is responsible for the financial aspects of the implementation of the Master Plan for the site, which envisions its transformation into a vibrant mix of commercial, office, retail, and educational spaces.
Jontos was a member of the National Park Service Business Management Group, a small unit of the National Park Service (NPS) Comptroller's office in the agency's headquarters. As part of that group, she worked with national programs, regional offices, and parks throughout the NPS to identify operational efficiencies and improve financial planning and management.
Jontos holds an MBA from the University of North Carolina, Chapel Hill, and a Bachelor of Arts degree in History from Cornell University. She encourages individuals and organizations interested in leasing opportunities to contact her at e-mail us.
Rebecca Lang, the park's new Administrative Officer, graduated from the University of Washington in 2002 with a Bachelor of Arts degree in History. In 2009, she graduated from the National Park Service's Entry Level Employee Development Program, a program designed to enhance the knowledge and skills of current employees so that they may more effectively fulfill the mission and workforce needs of the agency.
Lang, a native of Washington State, brings 11 years of experience, having worked at Olympic National Park in Washington, Haleakala National Park in Hawai'i, and Point Reyes National Seashore in California. She has served in a number of administrative positions throughout her career. Lang's career also includes serving details at Great Sand Dunes National Park and Preserve in Colorado, and at the Pacific West Regional Office in San Francisco. She is also a team member of the Western Incident Management Team, a group that responds to nation-wide, all-hazard incidents. In 2011, she was awarded the Department of the Interior's Honor Award.
"We are extremely fortunate to bring Kristen and Rebecca to Fort Vancouver. Their wealth of experience and business acumen will be strong assets as we move forward with park operations, and particularly the new chapter for the East and South Vancouver Barracks," said Superintendent Tracy Fortmann.
BACKGROUND: Fort Vancouver National Historic Site is one of the 398 national parks which make up the National Park System and it is located in both Washington and Oregon. This national park is also the heart of the Vancouver National Historic Reserve which is located in Vancouver, Washington. The Vancouver National Historic Reserve brings together a national park, a premier archaeological site, the region's first military post, an international fur trade emporium, one of the oldest operating airfields, the first national historic site west of the Mississippi River, and a waterfront trail and environmental center on the banks of the Columbia River. The partners of the Reserve teach visitors about the fur trade, early military life, natural history, and pioneers in aviation, all within the context of Vancouver's role in regional and national development. The National Park Service's vast array of public programs -- including living history events, festivals, cultural demonstrations, exhibits, active archaeology, and other special activities - serve communities in Washington and Oregon and create a dynamic, fun, and unique tourist destination for people of all ages.