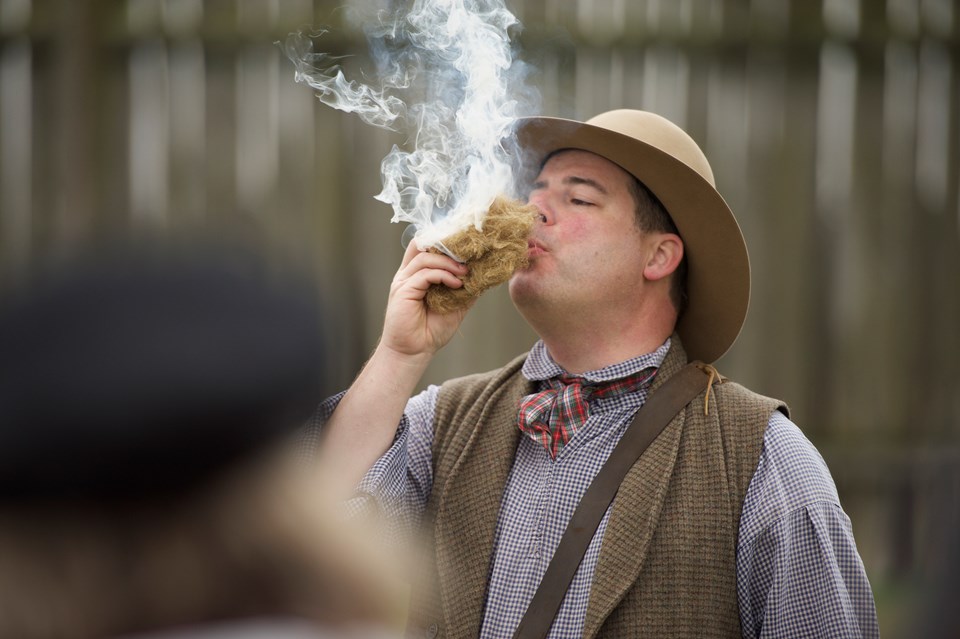 News Release Date:
May 31, 2017
Contact: Brett Roth, Park Guide, 360-816-6230
Contact: Mike Twist, Park Guide, 360-816-6246
Survive and Thrive: Lifeways of the Fur Trade
, a new free summer program at Fort Vancouver National Historic Site, will combine hands-on history lessons with outdoor skill-building to immerse visitors in the 1840s experience on June 24, 2017, from 9 am to 8 pm. The program will be led by two National Park Service rangers with extensive knowledge of current military survival skills as well as the skills common to the 19
th
century fur trade. Although weighted towards use for living history re-enactors, these skills are useful for anybody who spends time outdoors in hiking, camping, hunting, or fishing..
For centuries, Fort Vancouver has been a place for people of all walks of life to connect with the outdoors. Historical fur trappers of Fort Vancouver connected with their environment by learning outdoor survival skills while travelling with fur brigades.  Many of these same skills will be taught as part of
Survive and Thrive
. "The goal of this program is to enhance and enrich the lives of participants by sharing with them the fascinating history of the lives and skills of men and women who lived in the Pacific Northwest in the 1800s," said Park Guide Brett Roth. "The hands-on experiences in this program are also designed to be useful for modern day hikers, backpackers, and anyone interested in exploring the great outdoors."
Survive and Thrive: Lifeways of the Fur Trade
combines historical lessons with skill-building practical learning sessions to immerse visitors in historical fur trade ways of life. The program begins with historical lessons, including guided tours of the site and its archaeological collections. Visitors also participate in practical learning sessions such as tool identification and usage, fur identification, ecological effects of the fur trade, outdoor shelters, and food preparation in the field. Lunch and dinner is provided to participants. Meals are prepared using historical techniques from the fur trade.
This program is free of charge. The majority of the program curriculum is taught outdoors. This program is intended for participants ages 16 and older, and participants should be dressed for the weather, be in good enough physical condition to be on their feet most of the day, and be able to walk over uneven terrain. The program size is limited to 20 participants. Advance registration is required. Register to participate in this program by calling (360) 816-6244
This project is supported by the Washington State Historical Society with funds provided by the James B. Castles Endowment.
What
:
Survive and Thrive: Lifeways of the Fur Trade
, a survival skills workshop at fort Vancouver National Historic Site.  
Where
: Fort Vancouver National Historic Site. The workshop will occur both at the reconstructed Hudson's Bay Company Fort Vancouver and the partially reconstructed Hudson's Bay Company Village site, adjacent to the Land Bridge over State Route 14.  
When
: Saturday, June 24, 2017, 9 am to 8 pm  
Cost
: Free
Registration
: Call 360-816-6244 to register. Advance registration is required.  
What to bring
: Participants must wear closed-toe shoes. Participants are recommended to bring a water bottle, sunscreen and sunglasses. Long pants and hats for sun protection are recommended.