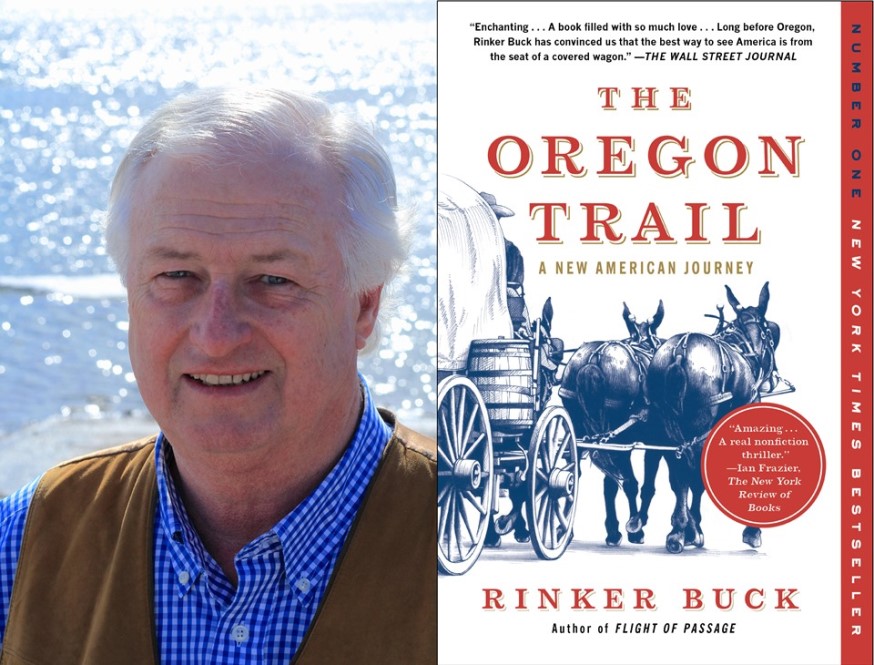 News Release Date:
June 3, 2016
Contact: Tracy Fortmann, Superintendent, 360-816-6205
Contact: Mary Rose, Friends of Fort Vancouver
Contact: Becky Milner, Vintage Books, 360-694-9519
 On Saturday, June 25, 2016, from 2 pm to 6 pm, the National Park Service, Vintage Books, and the Friends of Fort Vancouver will host a book signing and lecture with bestselling author Rinker Buck.
Buck's most recent book, The Oregon Trail: A New American Journey, recounts the author's experience recreating a covered wagon crossing of the 2,000-mile Oregon Trail. In 2011, Buck made the journey from Missouri to Oregon with his brother, Nick, three mules, and their dog. In The Oregon Trail, Buck provides an account of their journey - which made them the first wagon travelers in more than a century to complete a crossing of the trail - and shares the fascinating history of American emigrants who traveled across the country in the 1840s, and the people they met along the way. The Oregon Trail will be released in paperback on June 7, 2016.
From 2 pm to 4 pm, Buck will be at the Fort Vancouver Visitor Center to talk with visitors and sign copies of his book, which will be on sale at the Visitor Center. Costumed Fort Vancouver NHS volunteer interpreters will also be on hand to talk about the role Fort Vancouver and its Chief Factor, Dr. John McLoughlin, played in helping American emigrants settle in the Pacific Northwest. From 4 pm to 5 pm, Buck will deliver a public talk about the book and his experience writing it. Buck will be available until 6 pm to answer questions and sign additional books.
"Learning about Rinker Buck's journey along the Oregon Trail is a fascinating way to discover this important chapter in the history of the West - and to live vicariously by reading about his adventures!" said Superintendent Tracy Fortmann. "Fort Vancouver was an important final stop along the trail, and this event is a great way to tie together history and contemporary American life."
WHAT: Book signing and lecture with author Rinker Buck.
WHERE: Fort Vancouver Visitor Center, 1501 E Evergreen Blvd., Vancouver, WA 98661
WHEN: June 25, 2016. Book signing from 2 pm to 4 pm, lecture from 4 pm to 5 pm.
COST: Free.