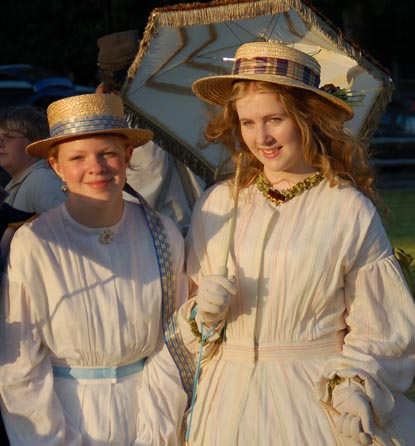 News Release Date:
September 20, 2013
Contact: Heidi Pierson, 360-816-6250
Summer's End Promenade
What: Summer's End Promenade 2013
Who: National Park Service staff and volunteers
When: 5:00 pm to 8:00 pm, Saturday, September 28, 2013
Where: Along Evergreen Blvd/Officers Row and the Fort Vancouver National Historic Site Parade Ground. In case of rain the event will move to the Fort Vancouver Visitor Center at 1501 Evergreen Blvd, Vancouver, WA 98661
How Much: Free
VANCOUVER, WA – The National Park Service at Fort Vancouver National Historic Site invites you to attend a very special Summer's End Promenade, a chance to see over 100 years of fashion! Costumes will highlight the decades between the 1840s and 1940s. Come and chat with our knowledgeable living history interpreters about the distinctive clothing of each decade, as well as details of local history. In inclement weather, the promenade will withdraw to the Visitor Center at Fort Vancouver.
This is a wonderful opportunity to enjoy the grounds of your national park, and see the results of our Costume Department's amazing volunteers, who work behind the scenes to make park programs come alive. "It is highly rewarding to work with so many exceptionally talented volunteers. And, the public really cares about our efforts here at the park. We have received many generous donations—funds, time, talent, items. It is so heartwarming when someone personally chooses to work with and support us," said Eileen Trestain, Head of the Fort Vancouver National Historic Site's Costume and Textile Department.
Come by Officers Row (Evergreen Boulevard) and the Fort Vancouver Parade Ground Saturday, September 28 from 5:00 pm to 8:00 pm for a leisurely stroll through local history and fashion. History interpreters will be walking through the area wearing reproduction costumes, ready to show off their authentic attire and answer visitors' questions about dress in Vancouver's pastduring this free event. "Visitors at the park are always interested in the clothing we wear, from the inside to the outside of our period dress, and we are always happy to answer their questions. The Summer's End Promenade gives visitors a chance to enjoy seeing some of the items in our reproduction collection that are not commonly out on view at major events," said Trestain.
"Tremendous work is put into reproduction costumes because frequently the public is up close asking questions of our history interpreters. This event gives the many volunteers who participate in our living history programs an opportunity to bring over 100 years of history to life," stated Superintendent Tracy Fortmann. "The sewing skills of the 19th century are very different than those of the 21st, and most volunteers have to learn a whole new 'old' way of sewing," added Trestain, "The costume department includes individuals performing all types of work from knitters, crocheters, embroiderers and beadworkers to office personnel: a whole range of skills beyond basic sewing."
Promenading was traditionally a way for fashion-conscious individuals to show off the latest clothing styles, displayed in a park or along a boardwalk for all to admire. Vancouver Barracks was often a social draw for the residents of Vancouver, and its park like atmosphere will be the backdrop for jaw-dropping ensembles.
Background:The Fort Vancouver National Site brings together a national park, a premier archaeological site, the region's first military post, an international fur trade emporium, one of the oldest operating airfields, the first national historic site west of the Mississippi River, and a waterfront trail and environmental center on the banks of the Columbia River. The partners of the Fort Vancouver National Site teach visitors about the fur trade, early military life, natural history, and pioneers in aviation, all within the context of Vancouver's role in regional and national development. The park's vast array of public programs -- including living history events, festivals, cultural demonstrations, exhibits, active archaeology, and other special activities -- create a dynamic, fun, and unique tourist destination for people of all ages.
-NPS-