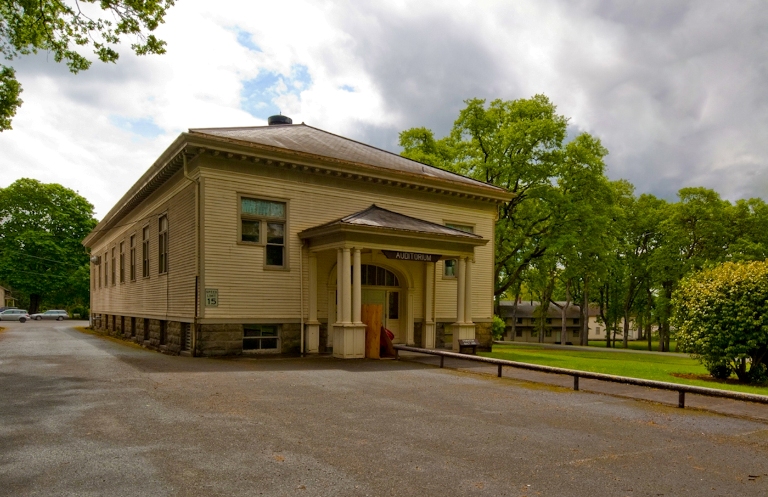 News Release Date:
March 25, 2013
Contact: Ray Cozby, Project Manager, (360) 816-6205
Contact: Lucien Swerdloff, Clatsop Community College, (503) 338-2301
The National Park Service is proud to announce a unique partnership project with Clatsop Community College Historic Preservation and Restoration Program. On May 11-12, 9:00 AM to 4:00 PM, students enrolled in the workshop will develop skills and techniques to document, analyze, and restore historic wood windows in the Gymnasium building at Fort Vancouver National Historic Site. Vancouver Barracks, established in 1849, is one of the nation's most historic military posts.
"This collaborative project will assist the National Park Service in preserving the Gymnasium/Auditorium building while teaching students the right way to do historic preservation," said Ray Cozby, National Park Service Project Manager for the East and South Vancouver Barracks Project. Tracy Fortmann, Superintendent at Fort Vancouver National Historic Site, stated, "This unique training opportunity will provide these students with a new appreciation of Fort Vancouver while helping in its preservation."
Techniques and skills learned at the workshop can be applied to wood windows on residences and commercial buildings. The Clatsop Community College Historic Preservation Program has conducted hands-on workshops throughout Oregon and Washington, and has been honored with awards from the Washington Department of Archaeology and Historic Preservation, and the Oregon State Historic Preservation Office.
For local students that might want to attend the workshop, registration for this course (BLD 228: Fort Vancouver Facade Restoration) is open and online at www.clatsopcc.edu, or call (503) 338-7670.
Clatsop Community College is an affirmative action, equal opportunity institution.
Background:
Fort Vancouver National Historic Site, a unit of the National Park Service, is at the heart of the Vancouver National Historic Reserve. The Vancouver National Historic Reserve brings together a national park, a premier archaeological site, the region's first military post, an international fur trade emporium, one of the oldest operating airfields, the first national historic site west of the Mississippi River, and a waterfront trail and environmental center on the banks of the Columbia River. The partners of the Reserve teach visitors about the fur trade, early military life, natural history, and pioneers in aviation, all within the context of Vancouver's role in regional and national development. The Reserve's vast array of public programs -- including living history events, cultural demonstrations, exhibits, active archaeology, and other special events and activities -- create a dynamic, fun, and unique tourist destination for people of all ages.