Park Staff and Partners Receive National Award for Fort Vancouver Mobile Application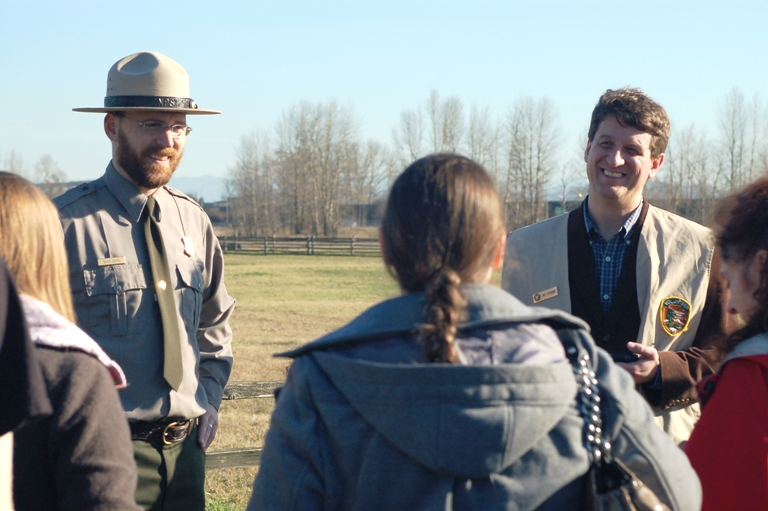 News Release Date:
March 13, 2013
Contact: Tracy Fortmann, (360) 816-6205
The Fort Vancouver Mobile Project has been chosen as one of two projects nationwide to receive this year's John Wesley Powell Prize for outstanding achievement in the field of historical displays, awarded by the Society for History in the Federal Government (SHFG).
Greg Shine, Chief Ranger and Historian for Fort Vancouver National Historic Site, and Dr. Brett Oppegaard, Volunteer-in-Parks and Assistant Professor at Washington State University Vancouver, received the award on behalf of the project team specifically for the "Kanaka" module of the application, which details the history of Hawaiian workers at this fur trading headquarters.
The Fort Vancouver Mobile Project is a collaboration between a core group of about 20 scholars, historians, new media practitioners, and curators, with institutional support from Washington State University - Vancouver and the National Park Service, as well as Texas Tech University and Portland State University.
Dr. Robert Sutton, the Chief Historian of the National Park Service, stated, "The Powell Prize is one of the most important and prestigious awards given to federal government historians each year. This is a huge honor for NPS volunteer Brett Oppegaard and Historian Greg Shine, for Fort Vancouver National Historic Site and Tracy Fortmann, the Park Superintendent, and for all historians in the National Park Service. We are extremely proud of Greg Shine, Brett Oppegaard, and the entire project team."
The award committee made the selection based on "the exemplary manner in which the mobile application seized the opportunity to utilize modern technology to engage the public at a historic site. With this project, the dual challenges of engaging a progressively digital-savvy and device-dependent on-site audience and attracting an equally technologically-connected virtual audience have been met in an innovative way that can serve as a model for other federal agencies to follow as they strive to connect people to place."
"To receive this award from such an eminent group of professional historians is a great honor and speaks volumes to the quality of historical research, analysis, writing and application that Greg and Brett have led with the Fort Vancouver Mobile Project," said Tracy Fortmann, Superintendent. "Not only is this project breaking new ground in the field of digital media, this award shows that it is also an innovative, national model in the field of history."
Background:
The Powell Prize commemorates the explorer and federal administrator whose work demonstrated early recognition of the importance of historic preservation and historical display.
The John Wesley Powell Prize alternates annually in recognizing excellence in the fields of historic preservation and historical displays. The award for historic displays is given for any form of interpretive historical presentation including, but not limited to, museum exhibits, historical films, CDs/DVDs, websites, or multimedia displays.
The Society for History in the Federal Government brings together government professionals, academics, consultants, students, and citizens interested in understanding federal history work and the historical development of the federal government.
The Society was founded in 1979 in Washington, D.C., to advance the unique interests of federal historians and provide a body through which they could address common concerns, support shared interests, and stimulate discussion. Members were made up of a wide range of professionals who worked to produce both narrative historical work and public history projects.
Last updated: February 28, 2015