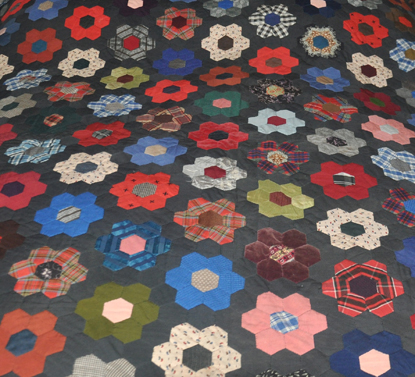 News Release Date:
March 15, 2013
Contact: Heidi Pierson, 503-656-5151
OREGON CITY, OR - The McLoughlin House unit of Fort Vancouver National Historic Site will hosting an open house on Saturday, March 23, from 10:00 am to 2:00 pm to highlight the Civil War Era Quilt Exhibit currently in the historic house museum. The quilts are from the private collection of quilt historian Eileen Jahnke Trestain and she will be on hand to discuss the quilts on display.
"These quilts are amazing," said Museum Technician Heidi Pierson, "we do not often see quilts of this vintage that are so vibrant and well-preserved." Stop by any time during the open house to take a look at the quilts and chat with Eileen or one of our costumed docents. This is a free event.
McLoughlin House Site Hours: Friday and Saturday from 10:00 a.m. to 4:00 p.m. The Barclay House is open to the public from 10:00 am to 4:00 pm. The McLoughlin House is available by free tour at 10:15 am, 11:15 am, 12:15 pm, 1:15 pm, 2:15 pm, and 3:15 - tours begin at the Barclay House.
Quilt Exhibit: The exhibit may be viewed during free tours of the McLoughlin House.
Button Mat Hands-on Demonstration: Saturday, April 13, from Noon to 4:00 pm. This is a drop-in program, so come by any time between Noon to 4:00 pm.
BACKGROUND:
The McLoughlin House was added to the National Park System in 2003 as a unit of Fort Vancouver National Historic Site. The house is restored to honor the life and accomplishments of John McLoughlin, the "Father of Oregon." The graves of McLoughlin and his wife Marguerite are next to the house, as is the home of Dr. Forbes Barclay, a Hudson's Bay Company associate, and his wife Maria.