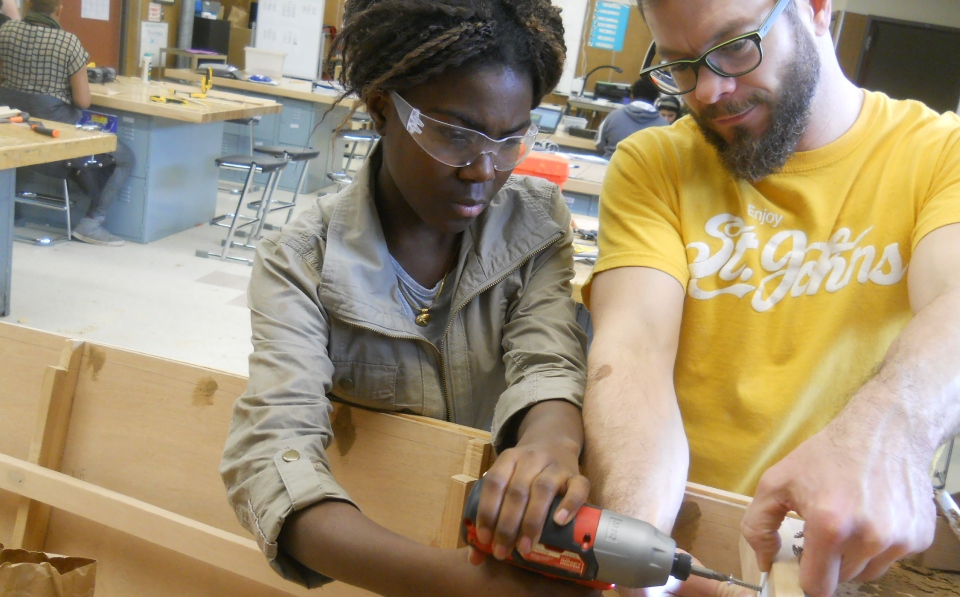 News Release Date:
July 6, 2017
Contact: Bob Cromwell, Chief of Interpretation, 360-816-6253
Contact: Theresa Langford, Curator, 360-816-6252
Wind & Oar Boat School
and the National Park Service at Fort Vancouver National Historic Site will be offering
On the Water
, a hands-on workshop exploring maritime history for youth ages 10 to 15. Participants will apply math and science skills to build a simple skiff, rotating through several stations over the course of the week-long workshop. Along with the boat building activities, they will learn about the maritime heritage of the Pacific Northwest, with topics including waterways as transportation routes, early Euro-American exploration, maritime fur trade, 19
th
century carpentry and blacksmithing, and human manipulation of the Columbia River.
The workshop will take place at the Historic Hangar at Pearson Air Museum, Monday, July 31 through Friday, August 4, 2017. Two sessions will be offered:
Session A
(9 am to 1 pm) or
Session B
(12 pm to 4 pm). The final day of the workshop will be 9 am to 4pm for all participants, and will include launching the boat at Vancouver Lake. This workshop is for participants ages 10-15. Each session is limited to 10 participants, with reservations on a first-come, first-served basis.
"Fort Vancouver had the region's first boat yards, and the first steam powered ship, the S.S.
Beaver
, was built and launched from the post's wharf," said Chief of Interpretation Bob Cromwell. "This program draws inspiration from this history, and we welcome this new partnership with Wind & Oar Boat School, bringing hands-on, STEM related lessons that highlight the maritime history of the park."
On completing a course with Wind & Oar, a student commented to Executive Director Peter Crim, "I liked how everyone got a chance to help, I felt very included. I also enjoyed learning how to apply what we learned in math to something cool. This kinda answered the question - what do we need math for?"
This project is supported by the Washington State Historical Society with funds provided by the James B. Castles Endowment.
What
:
On the Water
workshop at Fort Vancouver National Historic Site.
Where
: The workshop will be held in the Historic Hangar at Pearson Air Museum, 1115 E 5
th
Street, Vancouver, WA 98661
When
: July 31 through August 4,
Session A
(9 am to 1 pm) or
Session B
(12 pm to 4 pm).
Cost
: Free – but reservations are required. For reservations call (360) 816-6244.
Participants should bring
a sack lunch each day and closed-toed shoes. Safety glasses and life jackets will be provided. Parents or guardians MUST provide all transportation, including to Vancouver Lake the afternoon of the final day.