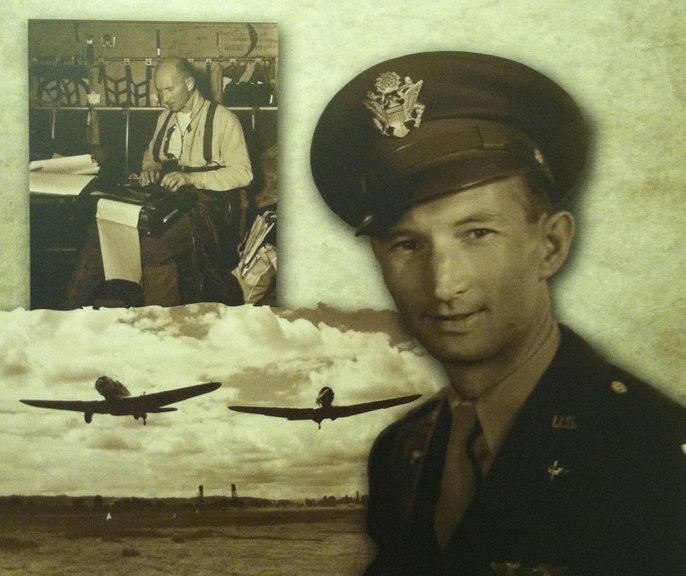 News Release Date:
January 27, 2015
Contact: Colin Fogarty, (360) 693-0123
VANCOUVER, WA—Confluence, in cooperation with the National Park Service at Fort Vancouver National Historic Site, is pleased to announce the addition of a new exhibit in the lobby of the historic Pearson Headquarters Building located just west of Pearson Air Museum at 1109 E. 5th Street.
"This is yet another way that Confluence connects people to place through art and education," said Confluence Executive Director, Colin Fogarty. "We appreciate our partnership with NPS because it allows both organizations to provide greater public access to these amazing historic spaces."
The Pearson Headquarters Building was constructed by the U.S. Army's Spruce Production Division in 1918 as the Finance Office for the World War I Vancouver Cut Up Mill, and it is the only surviving structure of that complex. The structure was originally located approximately 500 feet further west, and was moved by the Army in 1925 to its current location to serve as the Headquarters of the 321st Observation Squadron at the newly formed Pearson Field. The structure was rehabilitated by the National Park Service and the City of Vancouver in 2001, and currently serves as the office space for Confluence.
The new exhibit, News Aloft, focuses on the history of former Oregonian newspaper editor, Leverett G. Richards. A series of six exhibit panels lines the walls of the lobby, and interpret Mr. Richards' love of flying and the aviation influence on his journalism, as well as the history of the Pearson Headquarters Building, and the Civilian Conservation Corps. The exhibit was designed by historian Mary Rose and sponsored by Steve and Jan Oliva.
"This exhibit is another wonderful example of how the National Park Service can work in partnership with non-profit organizations to enrich the visiting public's appreciation of the many historic resources at Fort Vancouver National Historic Site," said Fort Vancouver National Historic Site Superintendent, Tracy Fortmann. "We look forward to continued partnership efforts with the Confluence as we move forward into the National Park Service's second century."
What: History Exhibit entitled, "News Aloft," focusing on the role of aviation in the journalism of former Oregonian newspaper Editor, Leverett Richards.
When: Although there are no official hours, the exhibit is generally available for public viewing during Confluence's operations, Monday-Friday, 9 AM-4 PM.
Where: Pearson Headquarters Building, at Fort Vancouver National Historic Site, 1109 E. 5th Street, Vancouver, WA.
Cost: Free
For more information, please contact Confluence at (360) 693-0123 or at info@confluenceproject.org.