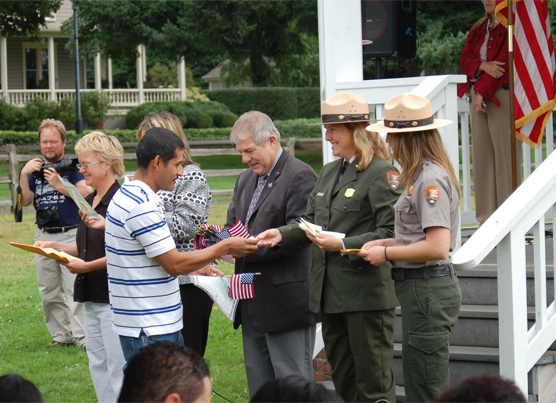 News Release Date:
September 13, 2011
Contact: Greg Shine, Chief Ranger & Historian, 360-816-6231
Contact: Kimm Fox-Middleton, Supervisory Park Ranger, Special Events & Volunteer Manager, 360-816-6243
VANCOUVER, WA -- On Friday, September 16, the National Park Service (NPS) at Fort Vancouver National Historic Site, in partnership with the U.S. Citizenship and Immigration Service (USCIS), will host the second annual Constitution Day and Citizenship Day Naturalization Ceremony.
The ceremony will take place at 11:00 a.m. at the historic Parade Ground at Fort Vancouver, in a tented area west of the Bandstand. The event is free and the public is invited to attend.
"Fort Vancouver is an ideal setting for such an important event," exclaimed Tracy Fortmann, Park Superintendent, "and we hope to continue to host it here each year. National parks, like Fort Vancouver, speak to who we are as a people and as a Nation; they are integral to the American experience. It seems fitting that this event is held here, in a location recognized internationally for its cultural heritage."
The ceremony will include welcoming remarks from Brandy Dufour, Immigration Services Officer with the USCIS, presentation of the colors by Veterans of Foreign Wars Post 7824 Honor Guard, and the National Anthem sung by Maria Eleoner Cadd, a citizenship candidate.
The ceremony will continue with opening remarks by Shelly Langlais, Acting Field Office Director for USCIS, and patriotic songs led by local Vancouver students.  The highlight of the ceremony will be the presentation of candidates for citizenship and the Oath of Allegiance.
The keynote speaker is Luda Leksunkin, a naturalized U.S. Citizen, an Evergreen High School and Clark College graduate, and a Park Guide with the National Park Service. A congratulatory audio message from President of the United States Barack Obama will conclude the ceremony, followed by the presentation of certificates of citizenship.
The event at Fort Vancouver is one of more than 20 naturalization ceremonies held in partnership with USCIS in units of the national park system under the theme "Embrace Citizenship - Experience America through your National Parks."
The NPS and USCIS recently renewed a formal partnership to enhance citizenship ceremonies by holding them in national parks throughout the country. The agreement helps introduce new citizens to some of the nation's most significant natural resources and cultural heritage sites.
"Each year on Constitution Day and Citizenship Day, we commemorate the signing of the U.S. Constitution and what it means to be a citizen of this great nation," said USCIS Director Alejandro Mayorkas. "We continue to be enriched by our diversity and united by our shared respect for the foundational rights and responsibilities enshrined in the Constitution."  
"I can't think of places more appropriate to welcome our newest citizens than national parks," said NPS Director Jonathan Jarvis. "National parks preserve significant natural resources and cultural heritage sites and are places where one can learn about and reflect on the American identity and the responsibilities of citizenship."
To view a list of special 2011 Constitution Day and Citizenship Day naturalization ceremonies, please visit www.uscis.gov/news.