McLoughlin House Summer Events 2011
Date:
June 16, 2011
Contact:
Heidi Pierson
, 503-656-5151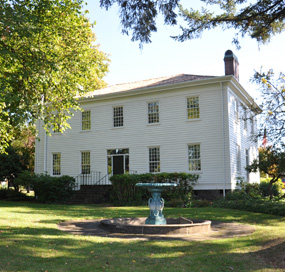 June 16, 2011
For Immediate Release
Contact: Heidi Pierson, National Park Service Museum Specialist 503-656-5151, heidi_pierson@nps.gov
McLoughlin House Site Summer Events
Oregon City, OR - The McLoughlin House Unit of Fort Vancouver National Historic Site presents its 2011 Summer Event Calendar.
Victorian Handcraft Demonstrations
This ongoing hands-on demonstration series features a variety of Victorian needlework and handwork techniques. Experience for yourself this important aspect of the lives of ladies in the 1800s! All programs are free of charge.
Saturday, July 9,12:00-4:00 p.m.
Knotted Fringe
Need the perfect finish for a shawl or table runner?Learn different ways to tie decorative knotted fringe.
Saturday, August 13, 12:00-4:00 p.m.
Nature Prints
Learn how to use Nature's bounty to create unique and delicate images.
Saturday, September 10, 12:00-4:00 p.m.
Bead Fringe
Create elegant bead fringes to embellish clothing and home décor items.
Kids Dig -July 9 and August 13, 11 a.m.
Children ages 8-12 are introduced to archaeology by participating in a "dig", mapping their artifact finds, and filling out site forms. As they excavate and screen with the help of park staff and volunteers, we will discuss how we learn from archaeology, and why we should preserve these pieces of our past.
Limited to 20 children on a first-come, first-served basis.
Brown Bag Lectures
Munch your lunch while you learn about the Civil War from local experts. All programs are free of charge, lunch not provided.
Thursday, July 21, 12:00 - 1:00 p.m.
John Brown and the Bleeding Kansas Affair
Speaker: Matthew MacDonald
Thursday, August 18, 12:00 - 1:00 p.m.
Civil War Causes and Consequences: a Western Perspective
Speaker: Greg Shine
Music on the Lawn with "Heartstrings"
Saturday, July 9, 2011 12:00 noon
Bring a blanket or lawn chair and join us for an afternoon of toe-tapping fun with local musical duo, "Heartstrings." All programs are free of charge.
Background:
The McLoughlin House was added to the National Park System in 2003 as a unit of Fort Vancouver National Historic Site. The house is restored to honor the life and accomplishments of John McLoughlin, the "Father of Oregon." The graves of McLoughlin and his wife Marguerite are next to the house, as is the home of Dr. Forbes Barclay, a Hudson's Bay Company associate, and his wife Maria. Fort Vancouver National Historic Site, a unit of the National Park Service, is the heart of the Vancouver National Historic Reserve. The Vancouver National Historic Reserve brings together a national park, a premier archaeological site, the region's first military post, an international fur trade emporium, one of the oldest operating airfields, the first national historic site west of the Mississippi river, and a waterfront trail and environmental center on the banks of the Columbia River. The partners of the Reserve teach visitors about the fur trade, early military life, natural history, and pioneers in aviation, all within the context of Vancouver's role in regional and national development. The Reserve's vast array of public programs -- including living history events, festivals, cultural demonstrations, exhibits, active archaeology, and other special activities -- create a dynamic, fun, and unique tourist destination for people of all ages.
-NPS-
Last updated: February 28, 2015