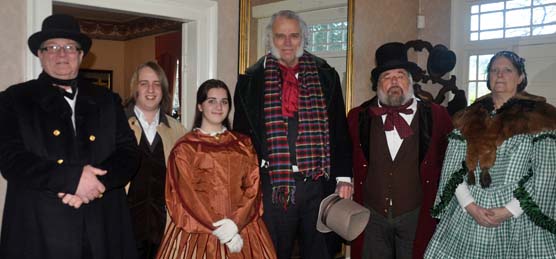 News Release Date:
September 4, 2014
Contact: Heidi Pierson, 503-656-5151
Contact: John Salisbury, 503-656-5151
MCLOUGHLIN HOUSE FALL AND WINTER EVENTS 2014
OREGON CITY, OR –The McLoughlin House Unit of Fort Vancouver National Historic Site presents its 2014
Fall/Winter Event Calendar.

Victorian Sewing Tools Lecture and Display: Saturday, September 13 at Noon and 2:00 pm. Learn about the lovely and useful items women in the Victorian Era actually used. Speaker Tracy Hill has been collecting 19th century sewing tools for many years and is the founder of our Victorian Cultural Demonstrations at the McLoughlin House Site. Free.
Third Saturday Speaker Series: R. Gregory Nokes: Saturday, September 20 at Noon. Greg Nokes
will give an hour long talk about his latest book: Breaking Chains: Slavery on Trial in the Oregon Territory. Free.
Scissor Sheaths Hands-On Demonstration: Saturday, October 11 from Noon to 4:00 pm. Learn to sew a
hand-sewn holder for your scissors. Free.
Spirits of Historic Oregon City Special Event: Saturday, October 6:00 to 9:00 pm. The McLoughlin House Site will close at Noon to prepare for this special event put on by the Oregon City Heritage Coordinating Committee. Reservations can be made for this special walking tour through the Rivershore Hotel: 503-655-7141, the cost is $12 per person.
Paper Boxes Hands-on Demonstration: Saturday, November 8 from Noon to 4:00 p.m. Create an elegant paper box to hold small treasures. Free.
Third Saturday Speaker Series: Daniel Klug: Saturday, November 15 at Noon. Daniel Klug is the head interpretive ranger at Champoeg State Heritage Area. He will be here to talk about Champoeg in the 1840s and 1850s, and how Champoeg and McLoughlin are interconnected. Free.
Heritage Holidays: Saturday, December 6th from 2:00 to 6:00 p.m. We invite visitors to come and celebrate the holiday 1850s style! The McLoughlin House and grounds will be lit by candlelight to chase away the winter gloom, inside the McLoughlin House living history interpreters will be telling stories and answering questions while music is played in the upstairs hall. Free.
McLoughlin House unit of Fort Vancouver National Historic Site 2014 Hours: Friday and Saturday from 10:00 a.m. to 4:00 p.m. The Barclay House is open to the public from 10:00 am to 4:00 pm. The McLoughlin House is available by guided tour at 10:15 am, 11:15 am, 12:15 pm, 1:15 pm, 2:15 pm, and 3:15 pm –tours begin at the Barclay House. Free.
BACKGROUND:
The McLoughlin House was added to the National Park System in 2003 as a unit of Fort Vancouver National Historic Site. The house is restored to honor the life and accomplishments of John McLoughlin, the "Father of Oregon." The graves of McLoughlin and his wife Marguerite are next to the house, as is the home of Dr. Forbes Barclay, a Hudson's Bay Company associate, and his wife Maria.