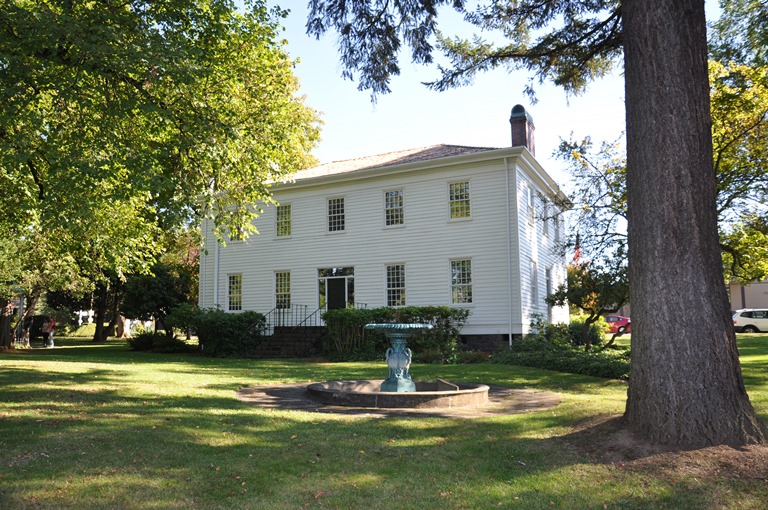 News Release Date:
April 5, 2014
Contact: Heidi Pierson, (503) 656-5151
The McLoughlin House unit of Fort Vancouver National Historic Site is open with a new schedule of Victorian Cultural Demonstrations and other events. This ongoing hands-on demonstration series features a variety of Victorian needlework and handwork techniques. Experience for yourself this important aspect of the lives of women in the 1800s. This year we will also be hosting a speaker series in the Barclay House. These will take place on the third Saturday of the month at noon.
The Third Saturday Speaker Series was developed as a way to highlight local history and tell stories that expand on the already rich history of the area. "We're hoping this series will enrich what is already a vibrant local heritage community." said Heidi Pierson, National Park Service Museum Specialist at the site, "We wanted to provide a reason for people in the area to return to our site and enjoy learning something new."
McLoughlin House unit of Fort Vancouver National Historic Site 2014 Hours: Friday and Saturday from 10:00 a.m. to 4:00 p.m. The Barclay House is open to the public from 10:00 am to 4:00 pm. The McLoughlin House is available by free tour at 10:15 am, 11:15 am, 12:15 pm, 1:15 pm, 2:15 pm, and 3:15 – tours begin at the Barclay House. Free.
Pressed Flowers Demonstration: Saturday, April 12 from Noon to 4 p.m. This is a drop-in program, so come by any time between noon and 4 p.m. Free.
Third Saturday Speaker Series: Elaine Dorset: Saturday, April 19, from Noon to 1:00 pm. Elaine Dorset is an archaeologist at Fort Vancouver and she will be talking about the history of the Fort Vancouver Garden. Free.
McLoughlin Memorial Association Founder's Day: Saturday, May 3rd from Noon to 4:00 pm. Join us to celebrate the founding of the association that saved the McLoughlin House. There will be an exhibit of Willamette Falls Art, and open house from Noon to 4:00 pm, music in the McLoughlin House upstairs hall, and ice cream floats on the Barclay House porch. Free.
Paper Filigree Demonstration: Saturday, May 10 from Noon to 4:00 pm. Paper filigree is often referred to as quilling in modern parlance. This craft utilizes rolled paper to form three dimensional designs and images. Free.
Third Saturday Speaker Series: Joe Galván: Saturday, May 17 from Noon to 4:00 pm. Joe Galván will be talking about music in Oregon Country during the 1800s. Free.
BACKGROUND:
The McLoughlin House was added to the National Park System in 2003 as a unit of Fort Vancouver National Historic Site. The house is restored to honor the life and accomplishments of John McLoughlin, the "Father of Oregon." The graves of McLoughlin and his wife Marguerite are next to the house, as is the home of Dr. Forbes Barclay, a Hudson's Bay Company associate, and his wife Maria.