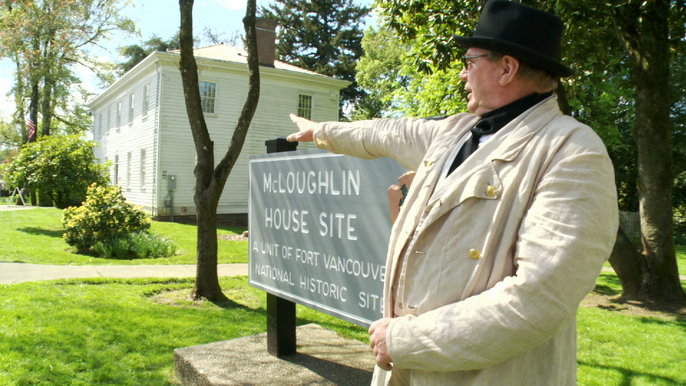 News Release Date:
February 6, 2015
Contact: Mike Twist, (503) 656-5151
OREGON CITY, OR-- The McLoughlin House unit of Fort Vancouver National Historic Site will re-open to the public on Friday, February 13th and celebrate Oregon's 156th Birthday on Saturday, February 14th.  Staff and docents will be on hand to answer questions and give guided tours of the McLoughlin House. There will be a special flag raising ceremony on Saturday the 14th, conducted by an American Legion Color Guard as well as local scouting groups.  Light refreshments will be available in the Barclay House. 
The 33rd star was added to the official US flag on July 4th 1859 to represent Oregon. Presidents James Buchanan (1857-1861) and Abraham Lincoln (1861-1865) both served under the 33 star flag before it was replaced in 1861 with the 34 star flag in conjunction with the addition of Kansas to the Union. 
Victorian Cultural Demonstrations will also resume in March. These wonderful hand-on crafts and culture demonstrations will take place on the second Saturday of the month, from March through November.  "Craft demonstrations are great way to learn something new," said Mike Twist, NPS Ranger at the McLoughlin House, "We enjoy sharing these crafts with our visitors.  In fact, most of our projects are suitable for all ages and skill levels to enjoy!"
"We have a number of varied events coming up this spring and summer, including demonstration and lectures," said Mike Twist, National Park Service Ranger at the site.
The 2014 visitation hours for both the McLoughlin House and the Barclay House unit of Fort Vancouver National Historic Site are: Friday and Saturday from 10 AM to 4 PM. Free tours are available at the McLoughlin House at 10:15 AM, 11:15 AM, 12:15 PM, 1:15 PM, 2:15 PM, 3:15 PM-- tours begin at the Barclay House.
BACKGROUND:
The McLoughlin House was added to the National Park System in 2003 as a unit of Fort Vancouver National Historic Site.  The house is restored to honor the life and accomplishments of John McLoughlin, the "Father of Oregon". The graves of McLoughlin and his wife Marguerite are next to the house, as is the home of Dr. Forbes Barclay, a Hudson's Bay Company associate, and his wife Maria.