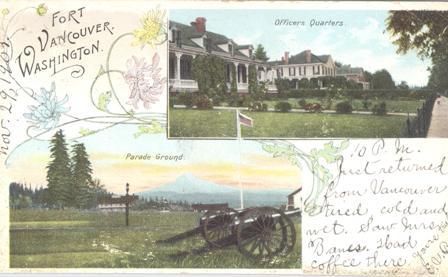 News Release Date:
January 22, 2013
Contact: Cassie Anderson, (360) 816-6247
VANCOUVER, WA - Back by popular demand, Fort Vancouver National Historic Site features an entirely free afternoon of hands-on activities centered on the power of connection through the written word.
On February 3rd from 12:00-300 p.m. visitors are invited to the Fort Vancouver National Historic Site Visitor Center. A special exhibit of letters and postcards from the museum collections will be on display, and complimentary reproduction letters and postcards will be available for visitors to take home or compose on the spot. Costumed interpreters dressed as Hudson's Bay Company clerks will help with your script writing, as you practice writing by dipping a pen in ink and keeping your lines straight!
Throughout the day, the clerks will perform a short scene about a real Hudson's Bay Company letter that was never delivered to its recipient. In addition, interpreters costumed for the later nineteenth century will perform a scene that illuminates an Army experience at Vancouver Barracks.
For those visitors a bit too young to write, there will be a table of coloring and paper folding crafts. Complimentary cookies and apple cider are available, as is a new free exhibit about the Civilian Conservation Corps and Works Progress Administration in Washington. The Fort Vancouver audio tour is free with paid admission to the reconstructed fort.
Before Twitter and e-mail, telephones and fast postal delivery, hand-writing one's desires and reflections on paper was a privileged escape to a world of both openness and privacy. Conversation in the nineteenth century was often corralled by what was deemed socially acceptable to discuss aloud. Writing was the means through which the literate could express their true selves - in a letter of confidence crafted to express undying affection or in a postcard conveying deep sympathies. The correspondence featured in our museum collections provides a personal glimpse into the hearts and minds of the authors: employees, soldiers, and families of Fort Vancouver and Vancouver Barracks.
"Holding this event in February provides the perfect opportunity for families to come in out of the cold, warm up with apple cider and cookies and then take the time to put pen to paper to write a letter or postcard. In time for Valentine's Day, one can choose to share their personal feelings to someone they care about, be it a friend, parents, grandparents, siblings or spouse. It is a gift, that cannot be bought, that is unique and highly personal . It is also a memento which can be kept forever and speaks to that special moment in time," added Superintendent Tracy Fortmann.
"Today's communication is so immediate people often forget that correspondence in the nineteenth century could take months or even years. Emotion was much more concentrated in writing than in everyday speech - if you were literate, and you could only send one letter a year to a loved one, what would you write?" said Park Ranger Cassie Anderson. 
WHERE: Fort Vancouver National Historic Site Visitor Center, 1501 Evergreen Street, Vancouver, WA 98661
WHEN: Sunday, February 3rd. Program runs from 12:00 p.m. - 3:00 p.m. Visitor Center is open 10:00 a.m. - 4:00 p.m. Reconstructed fort is open from 12:00 p.m. - 4:00 p.m.
COST: Free. Entrance to the visitor center is always free. Entrance fees apply to the reconstructed fort. $3/adult, free for youth aged 15 and under. America the Beautiful Interagency passes accepted.
BACKGROUND: Fort Vancouver National Historic Site is one of the 398 national parks which make up the National Park System and it is located in both Washington and Oregon. This national park is also the heart of the Vancouver National Historic Reserve which is located in Vancouver, Washington. The Vancouver National Historic Reserve brings together a national park, a premier archaeological site, the region's first military post, an international fur trade emporium, one of the oldest operating airfields, the first national historic site west of the Mississippi River, and a waterfront trail and environmental center on the banks of the Columbia River. The partners of the Reserve teach visitors about the fur trade, early military life, natural history, and pioneers in aviation, all within the context of Vancouver's role in regional and national development. The National Park Service's vast array of public programs -- including living history events, festivals, cultural demonstrations, exhibits, active archaeology, and other special activities - serve communities in Washington and Oregon and create a dynamic, fun, and unique tourist destination for people of all ages.