Popular Kids Digs Return to Introduce Youth to Archaeology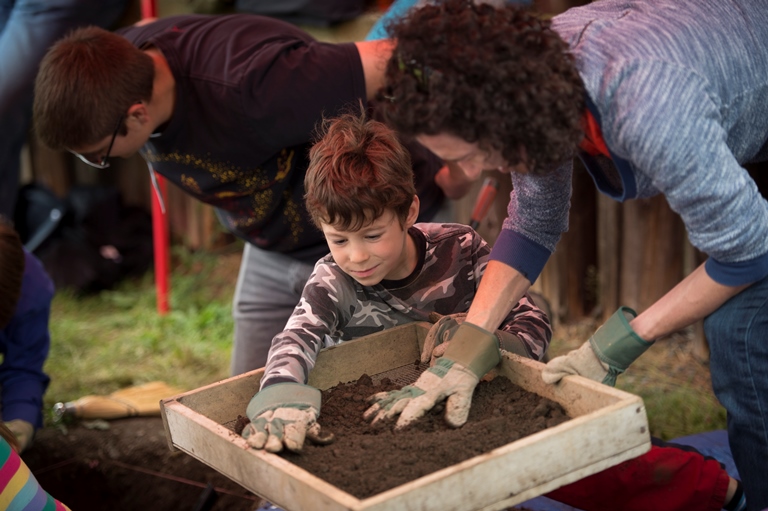 News Release Date:
June 2, 2015
Contact: Katie Wynia, Portland State University Field Director, (360) 816-6250
Contact: Justine Hanrahan, Park Ranger, (360) 816-6230
By popular demand, the National Park Service will again host Kids Digs at Fort Vancouver National Historic Site on June 27, July 11 and 18, and August 8, 2015. These popular hands-on programs introduce young people, ages 8 to 12 years old, to the fascinating world of archaeology at one of the Northwest's most famous archaeological sites.
The programs are led by National Park Service staff and volunteers, who provide children with a basic introduction to archaeological techniques - including excavation, screening, and recording and interpreting their findings.
On June 27, July 11 and 18, participants will be assisted by student archaeologists enrolled in the annual Public Archaeology Field School. On August 8, the OMSI Thinkineers will be assisting program participants. Thinkineers are high school-aged volunteers who participate in a variety of science and leadership activities to build positive life skills. At Fort Vancouver NHS, Thinkineers will be participating in a camp learning about archaeology and leadership, which will culminate in leading the August Kids Dig.
"Kids Digs give children the opportunity to experience their local national park in a hands-on way," said Park Ranger Justine Hanrahan, "Children are fully immersed in what archaeology means to our community, and gain a holistic understanding of how we know what we know about history through participation in the mock archaeology dig."
Kids Dig participants will dig at a mock, outdoor archaeological site within the reconstructed fort that represents the varied layers of history at Fort Vancouver NHS. These layers connect attendees to the site's American Indian presence, the history of the Hudson's Bay Company and US Army, and modern history. Each child will receive a Junior Archaeologist certificate upon completion of the program.
Kids Dig programs will take place on June 27, July 11 and July 18 and 10:30 am and 2:00 pm, and on August 8 at 2:00 pm. Digs take place inside the reconstructed fort stockade. Program is free with paid adult admission (youth aged 16 and younger enter free). The age level for this program is 8 to 12 years of age. Space is limited to 20 children. To ensure participant safety, youth must come prepared for active, outdoor play in the dirt; long pants, light long-sleeved shirts, solid shoes, sun hats and sunscreen are strongly recommended. Spots for each program can be reserved by calling (360) 816-6250. Remaining spots will be available on the day of the program.
Last updated: June 2, 2015