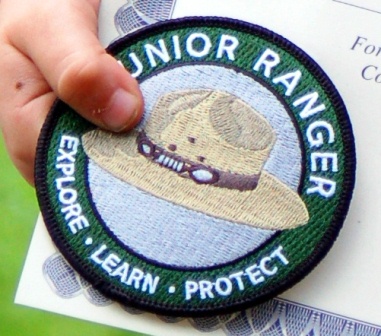 News Release Date:
April 5, 2012
Contact: Cassie Anderson, (360) 816-6247

VANCOUVER, WA -- Looking for something fun, free, and fantastic to do with family and friends? Head out to America's national parks where history is an unbelievable experience, not an exam. During National Park Week, April 21-29, ALL 397 of your national parks offer free admission, all week long! The National Park Service is proud to once again join with the National Park Foundation, the official charity of America's national parks, to present National Park Week.

Visit Fort Vancouver National Historic Site, your urban national park, to earn your Junior Ranger badge! Aimed at kids of all ages, Fort Vancouver's brand new Junior Ranger booklet guides youth through archaeology puzzles, resource arithmetic, and cultural activities to teach kids to explore, learn, and protect national parks. While youth can earn a badge any time of the year, on Junior Ranger Day on April 21, rangers and volunteers are stationed at fun activities around the fort to help youth work through the booklet. Once complete, kids take an oath to protect parks right beside a professional park ranger, earn a certificate to mark their accomplishment, and are awarded a Junior Ranger badge to show their pride in national parks.

"It's never too soon to instill stewardship in the next generation," adds Cassie Anderson, park ranger. "Whether you're a Junior Ranger, first-time visitor, or member of park staff, the responsibility to preserve national parks lies with all of us. National parks are gems everyone can enjoy-and during National Park Week, they're all free!"

The community values Fort Vancouver for many reasons - high among them are the park's direct ties to local and regional history, especially to the stories of the Nez Perce. Each year Nez Perce tribal members travel to sites important in their history to conduct traditional memorials to honor their ancestors. Fort Vancouver will be featured again during this year's Nez Perce Chief Redheart Memorial Ceremony. This year's Memorial, which begins at 10:00 a.m. in the park on April 21, features the Riderless Horse Ceremony and Sacred Pipe Ceremony. After the ceremony, the public is encouraged to attend a traditional Native American meal, prepared and served by the Northwest Indian Veterans Association located in the picnic shelter directly behind the visitor center located at 1501 E. Evergreen Blvd. Vancouver, WA 98661.
 
WHERE:  Fort Vancouver National Historic Site, 1001 East 5th Street, Vancouver, WA 98661.
WHEN: Saturday, April 21. Junior Ranger Day runs from 10:00 a.m. - 4:00 p.m. Chief Redheart Memorial Ceremony begins at 10:00 a.m. Fort and Visitor Center are open from 9:00 a.m. - 5:00 p.m.
COSTS:  Free! All 397 national parks are free for National Park Week, April 21-29.
Background: Fort Vancouver National Historic Site, a unit of the National Park Service, is at the heart of the Vancouver National Historic Reserve. The Vancouver National Historic Reserve brings together a national park, a premier archaeological site, the region's first military post, an international fur trade emporium, one of the oldest operating airfields, the first national historic site west of the Mississippi River, and a waterfront trail and environmental center on the banks of the Columbia River. The partners of the Reserve teach visitors about the fur trade, early military life, natural history, and pioneers in aviation, all within the context of Vancouver's role in regional and national development. The Reserve's vast array of public programs -- including living history events, festivals, cultural demonstrations, exhibits, active archaeology, and other special activities -- create a dynamic, fun, and unique tourist destination for people of all ages.