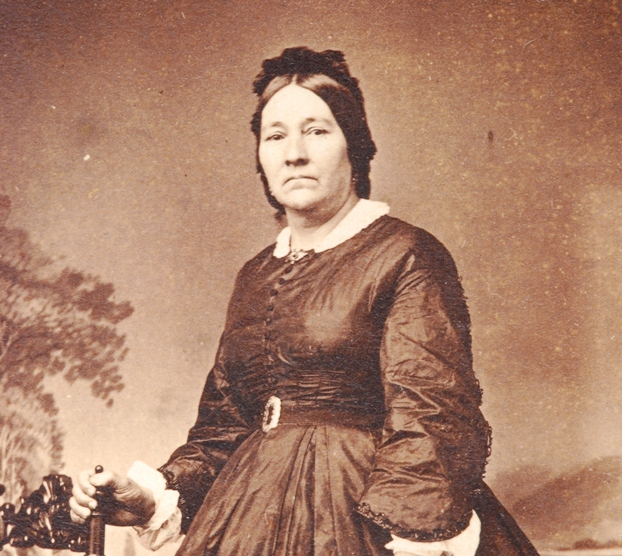 News Release Date:
June 6, 2012
Contact: Meagan Huff, (360) 816-6255
On Saturday, June 9, 2012, Fort Vancouver's museum staff will share stories and artifacts from the lives of women at Fort Vancouver and Vancouver Barracks at a Museum Collection Open House.
On this Saturday's tours, visitors will learn about the Native American and Métis women who married Hudson's Bay Company employees, from the wife and daughters of Chief Factor Dr. John McLoughlin, to the wives of fur trappers and traders living in the Fort's employee Village. Visitors will go behind-the-scenes in the Fort's collections storage facility to see objects these women would have owned and used, including trade items, jewelry and tools for preparing furs and sewing. European women and American missionary women who lived at or visited Fort Vancouver will also be discussed.
"Women who lived during Fort Vancouver's Hudson's Bay Company period were often illiterate and could not write their stories down for us to read," said Museum Technician Meagan Huff, "But we can learn about what their lives were like from artifacts that have been recovered here archaeologically or donated to our museum collection. Seeing these artifacts in person allows us to connect to these women in a unique way."
Artifacts from the lives of women who lived at Vancouver Barracks during the nineteenth century will also be highlighted, including clothing worn by Idabelle Haughey Kress, the stepdaughter of a U.S. Army captain who lived on Officer's Row from 1874 to 1884. In addition, artifacts such as cosmetic bottles and tobacco pipes will tell the story of laundresses who worked at the Barracks.
Said Curator Theresa Langford, "One of the main purposes of a museum collection is to explore histories that are not readily apparent. These behind-the-scenes tours allow visitors to discover 'hidden' parts of Vancouver's past through tangible objects."
Museum Collection Open Houses take place from March through October (excluding September) on the second Saturday of the month. Open Houses are organized into guided tours that take place on the hour beginning at 10:00 AM, with the last tour starting at 3:00 PM. On the day of the Open House, visitors must register for a tour time with the Park Ranger stationed in the Ranger Station just inside the gates of the reconstructed Fort.
Due to space constraints and the delicate nature of the artifacts in the collection, tours are limited to 15 people. Children over 10 years old are welcome.
For more information, visit https://www.nps.gov/fova/historyculture/collections.htm
WHERE: Fort Vancouver National Historic Site, 1001 East 5th Street, Vancouver, WA 98661.
WHEN: Saturday, June 9, 2012
COSTS: Free
Background:
Fort Vancouver National Historic Site, a unit of the National Park Service, is the heart of the Vancouver National Historic Reserve. The Vancouver National Historic Reserve brings together a national park, a premier archaeological site, the region's first military post, an international fur trade emporium, one of the oldest operating airfields, the first national historic site west of the Mississippi River, and a waterfront trail and environmental center on the banks of the Columbia River. The partners of the Reserve teach visitors about the fur trade, early military life, natural history, and pioneers in aviation, all within the context of Vancouver's role in regional and national development. The Reserve's vast array of public programs - including living history events, festivals, cultural demonstrations, exhibits, active archaeology, and other special events - create a dynamic, fun, and unique tourist destination for people of all ages.