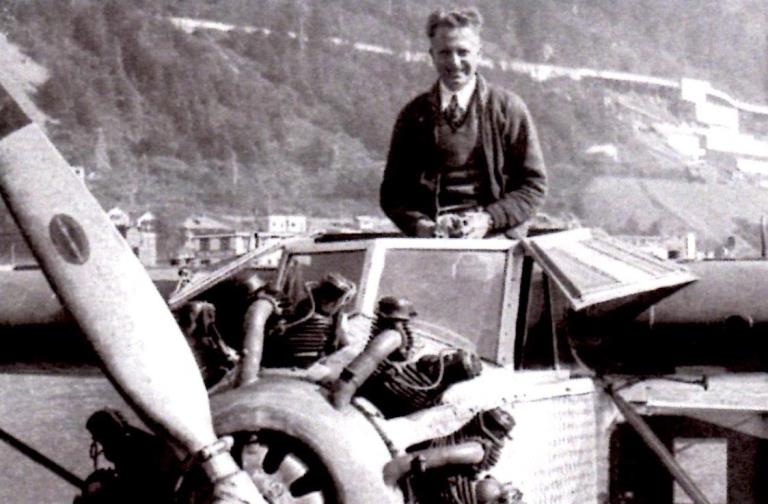 News Release Date:
March 26, 2015
Contact: Bob Cromwell, Pearson Air Museum Manager, (360) 816-6253
The National Park Service at Fort Vancouver National Historic Site is pleased to announce a free public lecture regarding an unheralded pilot who learned to fly at Pearson Field in 1925. Jimmy Rinehart, Barnstormer to Bush Pilot will be presented by Cindy (Rinehart) Boeing at 6:30 pm on Friday, April 10, 2015.
"Although we just finished a formal aviation lecture series at Pearson Air Museum, I couldn't turn away this fantastic opportunity for the public to learn about a pilot whose early career was focused at Pearson Field," said Pearson Air Museum Manager Bob Cromwell. "Jimmy Rinehart is an ancestor of Mrs. Boeing, and through research she has compiled much of his impressive aviation history."
Boeing learned about Rinehart after reading a newspaper article about his flying, and she soon wanted to know more. "What I discovered was the inspiring story of a young man and his love of flying during the exciting time of early aviation. The presentation shares some of the details of his flying career," said Cindy Boeing.
James Rinehart was born in 1910 and raised in Oregon. He was one of the first commercially licensed pilots in America. As a teenager, he built his own airplane and learned how to fly at Vancouver's Pearson Field. In 1928, at the age of 18, he was an endurance flight record holder, the youngest licensed transport pilot in the country, and was acquainted with some of the best pilots in America.
"Rinehart had a fascinating career in aviation, full of adventures and accomplishments," said Cromwell, "and his story provides an excellent window into the early days of Pearson Field."
What: Jimmy Rinehart, From Barnstormer to Bush Pilot, a special lecture presented by Cindy Boeing
When: Friday, April 10, 2015, 6:30 pm - 7:30 pm
Where: Pearson Air Museum and Jack Murdock Aviation Center at Fort Vancouver National Historic Site, 1115 E 5th Street, Vancouver, WA 98661
Cost: Free