Free Family Fun on National Get Outdoors Day on June 10 at Fort Vancouver National Historic Site
Date:
May 24, 2017
Contact:
Gala Miller, Gifford Pinchot National Forest
, 360-891-5014
Contact:
Bob Cromwell, Fort Vancouver National Historic Site Chief of Interpretation
, 360-816-6253
Experience free outdoor activities and family fun at the ninth annual National Get Outdoors Day on Saturday, June 10 from 10 am to 3 pm at Fort Vancouver National Historic Site in Vancouver.  
Kids and families can enjoy climbing a rock wall, learning how to shoot a bow and arrow, catching a fish from a pond and playing lacrosse, bicycling, and disc golf. Smokey Bear, Woodsy Owl, Jr. Beaver and their friends will be on hand to greet visitors. A historic fur trader encampment will re-enact life at Fort Vancouver during the 1840s.  
National Get Outdoors Day is a national free event that encourages local residents, especially youth, to pursue healthy, active outdoor lifestyles by embracing our parks, forests, wildlife refuges, and other public lands and waters. The Gifford Pinchot and Mt. Hood National Forests, Columbia Gorge National Scenic Area, Fort Vancouver National Historic Site, City of Vancouver, Parks Foundation of Clark County and many other public, private, and non-profits groups are partnering together to present this local event. Special thanks goes to presenting sponsor The Vancouver Clinic.  
"We are appreciative so many agencies, businesses, partners and friends have come together to embrace getting outside for healthy family fun," said Gina Owens, Forest Supervisor for the Gifford Pinchot National Forest. "In addition to enjoying all the fun activities, participants will have opportunities to learn about recreation and stewardship of our public lands."  
At Get Outdoors Day, visitors can also explore the annual Brigade Encampment, which re-enacts the return of Hudson's Bay Company fur brigades to Fort Vancouver. Costumed re-enactors will demonstrate cooking, crafts, games, dances, and music of the 1840s. Hands-on activities and black powder demonstrations of replica 1840s weaponry will also take place.  
"The Brigade Encampment allows visitors to get a glimpse into what life was like in the Pacific Northwest in the 1800s. Volunteers at the Encampment will demonstrate the many outdoor skills that fur traders and their families needed to have in order to survive in the wilderness," said Fort Vancouver National Historic Site Superintendent Tracy Fortmann. "Of course, today we see many of these skills as recreational activities. This event serves as a great reminder of how much life in Southwest Washington has changed!"  
For additional information about Get Outdoors Day click
here
.
What
: Get Outdoors Day & Brigade Encampment at Fort Vancouver National Historic Site.
Where
: Along East 5th Street near Pearson Air Museum (1115 E. Fifth St., Vancouver, WA 98661), and in the Great Meadow across from the museum.
When
: Saturday, June 10, 2017, 10 am to 3 pm
Parking
: Parking is available at the reconstructed Fort Vancouver parking lot, along the western portion of East 5th Street, and at the Fort Vancouver Visitor Center.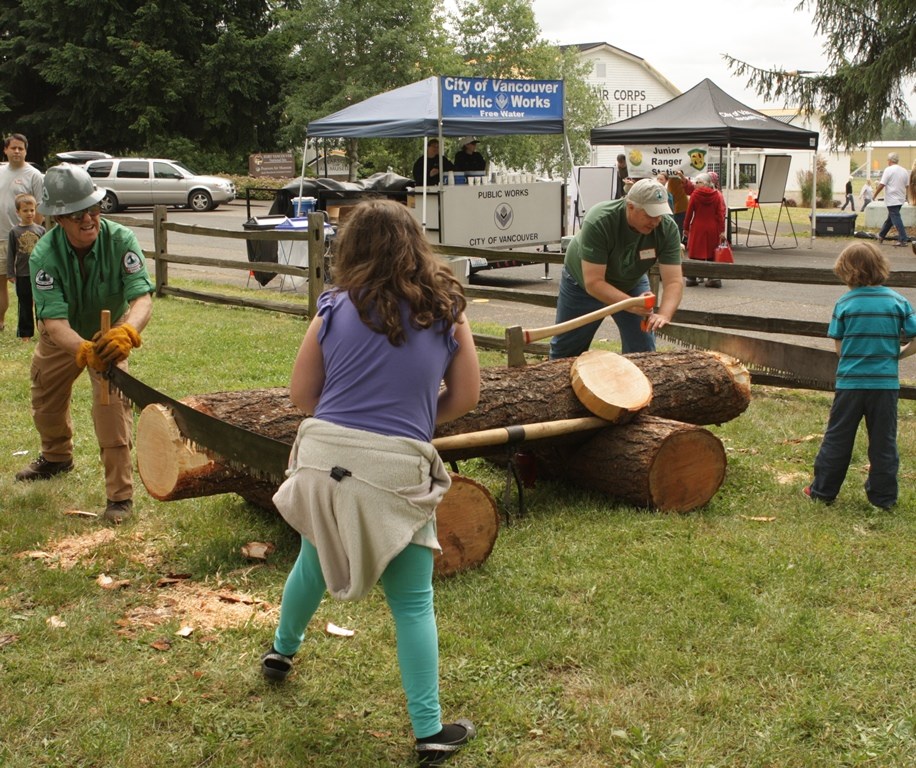 Last updated: May 24, 2017