Free Lecture Explores Early 20th Century Native and White American Identities Through "Ishi: His Time, Place, Tools, and Interactions"
Date:
May 24, 2012
Contact:
Mike Twist, (360) 816-6246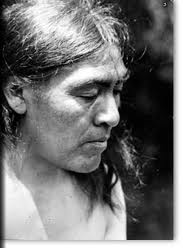 VANCOUVER, WA - On August 28th, 1911, Ishi, the only surviving member of the Yahi tribe, walked to the outskirts of Oroville, California, alone, hungry and with his hair burned short in morning for the deaths of the last members of his family. Resigning himself to be captured by the Americans, and fully expecting to meet the same fate as that of his family and ancestors, Ishi instead found himself propelled to celebrity status in a world he couldn't have imagined.
Please join us at the Fort Vancouver National Historic Site Visitor Center on May 31st at 7:00 p.m. for Dennis Torresdal's presentation: "Ishi, His Time, Place, Tools and Interactions". Learn the fascinating story of this last known surviving member of the Yahi Indians of Northern California who spent most of his life in hiding and living by hunting with bow and arrows, spear fishing, and gathering edible plants. All the while he and his remnant tribe were trying to avoid being detected by ranchers, herders, prospectors, and other intruders of their territory. Vancouver Barracks, U.S. Army, had an area of responsibility that ranged from Alaska to Northern California.Most of Ishi's technologies as well as life ways were identical to many of the tribal peoples that the Army was ordered to pacify in the far West.By studying Ishi and his ways, we are afforded a rare opportunity to glimpse into a world too often destroyed before any record could be made of it.
In his talk about Ishi, Mr. Torresdal will introduce the area where the Yahi lived between Mill Creek and Deer Creek, California. He will also share the cast of characters involved in the conflicts in that area, and how the paths of some crisscrossed both before and after the discovery of Ishi. Mr. Torresdal will be sharing images of the many related artifacts from Grizzly Bear's Hiding Place, as well as the tools that Ishi made and used while living at the UC Berkeley Museum of Anthropology. All of these images and information are entwined in a story of how Ishi has influenced our lives with both myth and meaning.
Dennis Torresdal, M.A., is a retired science teacher in the Scappoose Public School System. In addition to volunteering his time analyzing artifacts and working in the Blacksmith Shop at Fort Vancouver National Historic Site, Mr. Torresdal is the current President of the Oregon Archeological Society. He has studied and practiced primitive technology skills since the 1970's, and has traveled extensively through the landscape where Ishi lived since the 1980's. In 2011 he was the keynote speaker at the Tenth Annual Ishi Gathering in Oroville, CA.
WHERE: Fort Vancouver National Historic Site Visitor Center, 1501 Evergreen Street, Vancouver, WA 98661
WHEN: Thursday, May 31st, 2012, 7:00 p.m. The giftshop and bookstore, located inside the Visitor Center, will also be open.
COSTS: Free.
Background: Fort Vancouver National Historic Site, a unit of the National Park Service, is at the heart of the Vancouver National Historic Reserve. The Vancouver National Historic Reserve brings together a national park, a premier archaeological site, the region's first military post, an international fur trade emporium, one of the oldest operating airfields, the first national historic site west of the Mississippi River, and a waterfront trail and environmental center on the banks of the Columbia River. The partners of the Reserve teach visitors about the fur trade, early military life, natural history, and pioneers in aviation, all within the context of Vancouver's role in regional and national development. The Reserve's vast array of public programs -- including living history events, festivals, cultural demonstrations, exhibits, active archaeology, and other special activities -- create a dynamic, fun, and unique tourist destination for people of all ages.
-NPS-