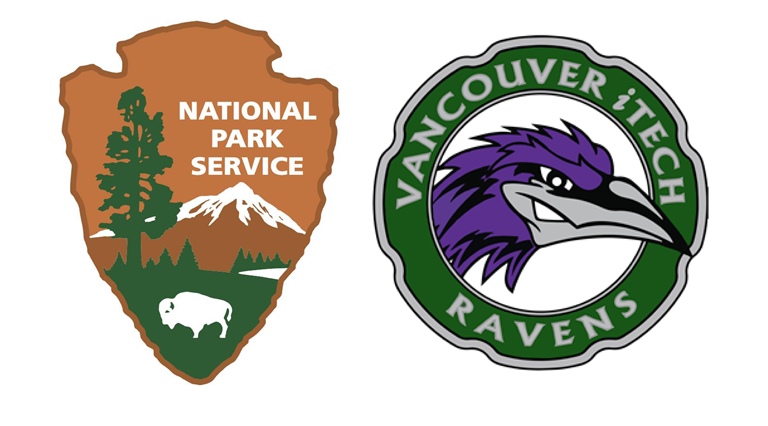 News Release Date:
March 16, 2016
Contact: Theresa Langford, Curator, (360) 816-6252
Contact: John Zingale, teacher, iTech Preparatory Middle School
Contact: David Midkiff, teacher, iTech Preparatory Middle School
Vancouver iTech Preparatory Middle School and the National Park Service at Fort Vancouver National Historic Site announce a partnership to highlight the park's historical resources with digital technology. This teacher-student-ranger project began with these questions posed to the 7th and 8th grade students:
How can we share our nationally significant history with our community, and the world, in the digital age?

How can we better reach those, near and far, who want to learn more about this national park?

How can we leverage new technology to reach new audiences?
These are key questions for the National Park Service as the agency enters its second century. Here in Vancouver, students of Vancouver iTech Preparatory embraced the challenge of answering these questions, and are the helping their local national park bring the past into the future.
Fort Vancouver Virtual Reality, known as FVvr (pronounced "Fever!"), the project partners Washington State history students with national park interpreters, curators, and archaeologists to create an interactive web-based experience. This will be much more than a typical virtual tour. The students are using special new cameras that capture 360º images to map the inside and outside of buildings and landscape features at Fort Vancouver National Historic Site. The images will be linked together and combined with audio scripts highlighting artifacts to inform the public about the history of the national park. The tour can become even more enhanced when users operate it on their smartphone. Using Google Cardboard, or a similar headset, the user becomes completely immersed into a virtual reality experience that allows them to feel as if they are actually at Fort Vancouver in person.
The students have delved deeply into the history and archaeology of Fort Vancouver. By being the creators of this virtual experience, they learn valuable 21st century skills as well as the confidence they will need to be successful in the future. We are proud to announce this partnership between Fort Vancouver National Historic Site and Vancouver iTech Preparatory, one in which STEM education and social sciences work in unison to not only educate local students, but the community and beyond.
This project is being led by iTech teachers John Zingale and David Midkiff, who are supported by their principal, Christina Iremonger, along with national park Curator Theresa Langford and Chief Ranger Bob Cromwell. FVvr will be completed and available online to the public by late April, 2016.