Date:
October 24, 2006
Contact:
Tracy Fortmann, Superintendent, 360.816.6212
Contact:
Greg Shine, Chief Ranger, 360.816.6231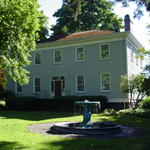 For Immediate Release      
VANCOUVER, WA - Fort Vancouver National Historic Site (NHS) Superintendent Tracy Fortmann has announced the completion of an Environmental Assessment (EA) on its draft management plan for the McLoughlin House Unit. "We want to know what people think about the proposed management of this site as it continues to undergo a change from management by the McLoughlin Memorial Association to management by the National Park Service," said Fortmann.
The purpose of the Environmental Assessment is to identify, evaluate and document the potential effects of the proposed management of the McLoughlin House Unit by the National Park Service (NPS). Existing conditions, under management by the McLoughlin Memorial Association (Association), constitute the baseline for evaluating the effects of the proposed alternatives. Existing conditions are presented as part of the no action alternative (Alternative A), while proposed management modifications are presented as part of Alternative B (Preferred Alternative).
Alternative A: No Action (Continue Current Management) would result in the continuation of current management practices; however, small changes would be made based on the change in ownership from the Association to the NPS.
Alternative B: Implementation of McLoughlin House Unit Management Plan is the Preferred Alternative. Alternative B emphasizes additional cultural resources strategies that would ensure the long-term preservation of the houses, historic site, and collections; increased opportunities for visitor education and interpretation; and improved visitor and NPS facilities.
Copies of the plan and environmental assessment are available by accessing the NPS Planning, Environment and Public Comment (PEPC) system website at https://parkplanning.nps.gov/fova.
More information can be obtained by calling Fort Vancouver at (360) 816-6212 or the Barclay House at (503) 656-5151 or check the park's website at https://www.nps.gov/fova.
Interested individuals and community groups are invited to join the Superintendent and other park staff at one of two public open house meetings held to debut the plan/environmental assessment at the Barclay House, 713 Center Street, Oregon City, Oregon on November 14, 2006 in the afternoon from 2:00 p.m. to 4:00 p.m. or in the evening from 7:00 p.m. to 9:00 p.m.
Besides attending one of the public meetings, written comments can be sent to: Fort Vancouver National Historic Site, Superintendent, 612 East Reserve Street, Vancouver, Washington 98661. Comments will also be accepted via e-mail at: FOVA_Superintendent@nps.gov.
All written public comments must be postmarked by December 30, 2006.