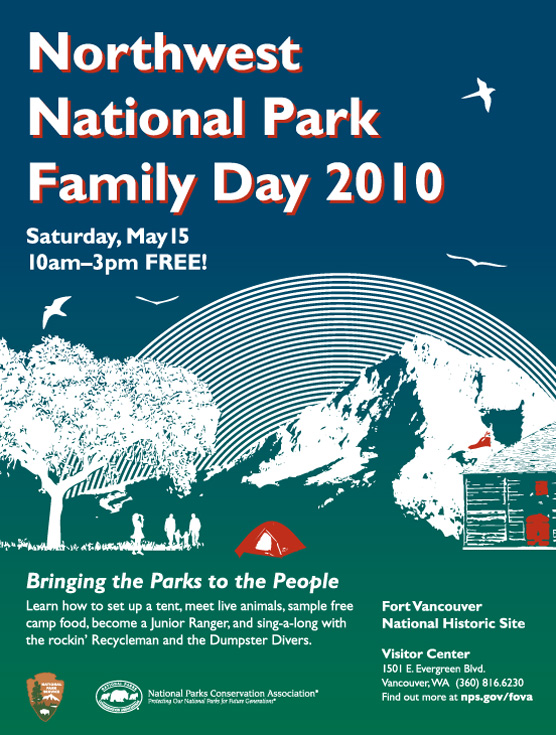 News Release Date:
May 7, 2010
Contact: Kimm Fox-Middleton, 360.816.6243
Contact: Aaron Ochoa, 360.816.6233
THIRD ANNUAL NORTHWEST NATIONAL PARK FAMILY DAY AT FORT VANCOUVER
WHAT: Northwest National Park Family Day
WHERE: Fort Vancouver National Historic Site Visitor Center, 1501 Evergreen Blvd. Vancouver, WA
WHEN: Saturday, May 15, 2010 from 10:00 a.m. to 3:00 p.m.
EVENT DETAILS: FREE community event designed to introduce the national parks to everyone living in the Pacific Northwest. Families experience Fort Vancouver, Crater Lake, Lewis & Clark, Klondike Gold Rush, Mount Rainier, Nez Perce, North Cascades, and Olympic national park sites with a full day of hands-on fun and educational activities.
This year highlights increased involvement from the Portland/Vancouver metro area schools including;
Truman Elementary School: Kids in the Park Exhibit in the Visitor Center
Marshall Elementary School: Green Club Reuse and Recycle crafts table
Rosemary Anderson High School: Located in Portland, high school students will share their experience in studying environmental impacts on local streams, Salmon Watch, and more
The event features interactive presentations from Park Rangers including:
Safety in the woods

Hands-on introduction to hiking, snowshoeing, and camping in our national parks, including gear and food presentations

Interactive programs about archaeology

Learning about the fur trade and the rush to find gold

Camping Past and Present

Camp Cooking: Rustic or Gourmet?
Other presentations and activities include:
Wildlife in our national parks: live birds of prey from Wild with Raptors and native reptiles from Oregon Zoo's ZAP program
Children learn about conserving our natural resources with music from the entertaining band "Recycle Man and the Dumpster Divers"
COST: Free!