Park Tourism Creates $37.6 Million in Local Economic Benefit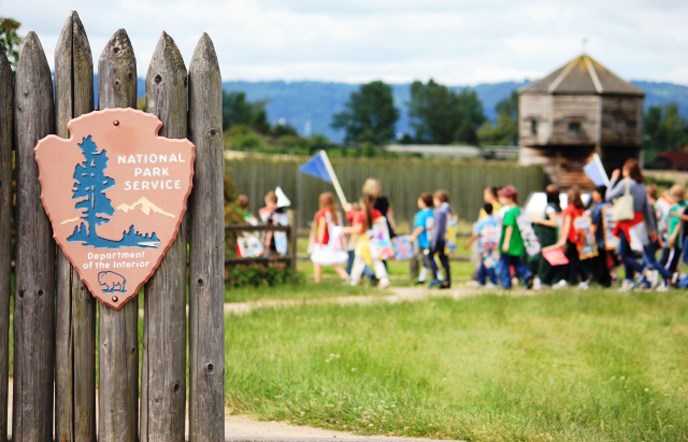 Date:
October 21, 2013
Contact:
Greg Shine, Chief Ranger & Historian
, 360-816-6231
Contact:
Robert Gutierrez, Park Ranger
, 360-816-6243
Fort Vancouver National Historic Site Tourism Creates $37.6 Million in Local Economic Benefit
Part of $30 billion impact that supports 252,000 jobs nationwide
 Vancouver, WA – A study by Michigan State University for theNational Park Service shows that in 2011 the 710,439 visitors to Fort Vancouver National Historic Site spent $37,610,000 in communities surrounding the park.This spending supported 613 jobs in the local area.
"Fort Vancouver National Historic Site is a wonderful place to learn about America's story," said park superintendent Tracy Fortmann. "We attract visitors from across the U.S. and around the world who come here to experience the park and then spend time and money enjoying the services provided by our neighboring communities and getting to know this amazing part of the country. The National Park Service is proud to have been entrusted with the care of America's most treasured places and delighted that the visitors we welcome generate significant contributions to the local, state, and national economy."
The information on Fort Vancouver National Historic Site is part of a peer-reviewed spending analysis of national park visitors across the country conducted by Michigan State University for the National Park Service. For 2011, that report shows $13 billion of direct spending by 279 million park visitors in communities within 60 miles of a national park. That visitor spending had a $30 billion impact on the entire U.S. economy and supported 252,000 jobs nationwide.
Most visitor spending supports jobs in lodging, food, and beverage service (63 percent) followed by recreation and entertainment (17 percent), other retail (11 percent), transportation and fuel (7 percent) and wholesale and manufacturing (2 percent.)
To download the report, visit www.nature.nps.gov/socialscience/products.cfm#MGM and click on Economic Benefits to Local Communities from National Park Visitation, 2011.
The report includes information for visitor spending at individual parks and by state.
To learn more about national parks in Oregon and Washington State and how the National Park Service works with communities to preserve local history, conserve the environment, and provide local recreation opportunities, go towww.nps.gov/oregon or www.nps.gov/washington.
Background
Fort Vancouver National Historic Site is one of the 397 national parks which make up the National Park System and it is located in both Washington and Oregon. This national park is also the heart of the Vancouver National Historic Reserve which is located in Vancouver, Washington. The Vancouver National Historic Reserve brings together a national park, a premier archaeological site, the region's first military post, an international fur trade emporium, one of the oldest operating airfields, the first national historic site west of the Mississippi River, and a waterfront trail and environmental center on the banks of the Columbia River. The partners of the Reserve teach visitors about the fur trade, early military life, natural history, and pioneers in aviation, all within the context of Vancouver's role in regional and national development. The National Park Service's vast array of public programs -- including living history events, festivals, cultural demonstrations, exhibits, active archaeology, and other special activities - serve communities in Washington and Oregon and create a dynamic, fun, and unique tourist destination for people of all ages.
-END-
Last updated: February 28, 2015