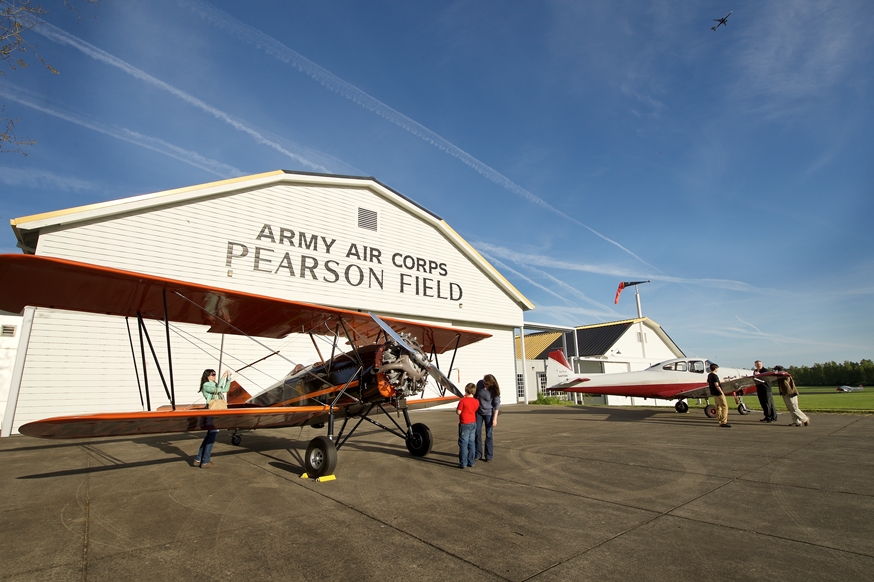 News Release Date:
September 23, 2016
Contact: Bob Cromwell, Acting Chief Ranger, 360-816-6253
Contact: Evergreen Aviation & Space Museum, 503-687-2439
Starting in October, as part of a new partnership between the Evergreen Aviation & Space Museum (EASM) and Pearson Air Museum at Fort Vancouver National Historic Site, the EASM educational staff will provide educational programming for local students at the Pearson Air Museum campus. This partnership will increase the availability of aerospace-focused Science, Technology, Engineering, and Math (STEM) based programs at Pearson Air Museum, and will allow both organizations to expand their educational enrichment activities.
This program will provide all the high-quality aviation programming available at the EASM, located in McMinnville, Oregon, to Portland/Vancouver metro area students. The lessons and activities have a hands-on approach, and bring technology and fun into the classroom. A variety of STEM-based topics can be selected by visiting classes, including: "Art and the Cosmic Connection," "Aerodynamics: From Flying Boats to Jets and Fighters," "Robots are Real," "Living and Working in Space," and more. Student fees for each course will be $10/student, payable to the EASM.
"We are excited about this partnership with Pearson Air Museum and are looking forward to growing our programming as we expand outside of our museum campus," said Ann Witsil, Interim Executive Director for Evergreen Aviation & Space Museum, "Our educators are out of this world when it comes to STEM programming, and we are looking forward to sharing their knowledge and passion with the students from the Portland metro area."
"This is an incredible opportunity for metro-area students to utilize the combined talents of the National Park Service and the EASM and learn not only about the long aviation history of Pearson Field, but also the modern exciting facets of aviation and engineering," said Dr. Bob Cromwell, Acting Chief Ranger of Fort Vancouver National Historic Site and the Manager of Pearson Air Museum.
Teachers from the Vancouver, Evergreen, and Portland Public School Districts are encouraged to sign their classes up for a field trip to Pearson Air Museum on any of the following dates:
October

4th or 12th, 2016

November

8th or 16th, 2016

January

10th, 18th, 25th, or 31st, 2017

February

8th, 14th, 22nd, or 28th, 2017

March

8th, 14th, or 22nd, 2017

April

11th, 19th, or 25th, 2017

May

9th or 17th, 2017
There will be two sessions available for each date, a morning session from 9 to 11 am, and an afternoon session from noon to 2 pm. Classes can make a full day of field trips by combining these STEM sessions with a curriculum-based tour of Fort Vancouver, as well. Reservations are required, and groups of 30 students or more are required. Full information about each available course topic and more reservation information can be found at the online link 
Pearson Air Museum & EASM Aviation Stem
, by calling 503-687-2439, or by
emailing the EASM
.