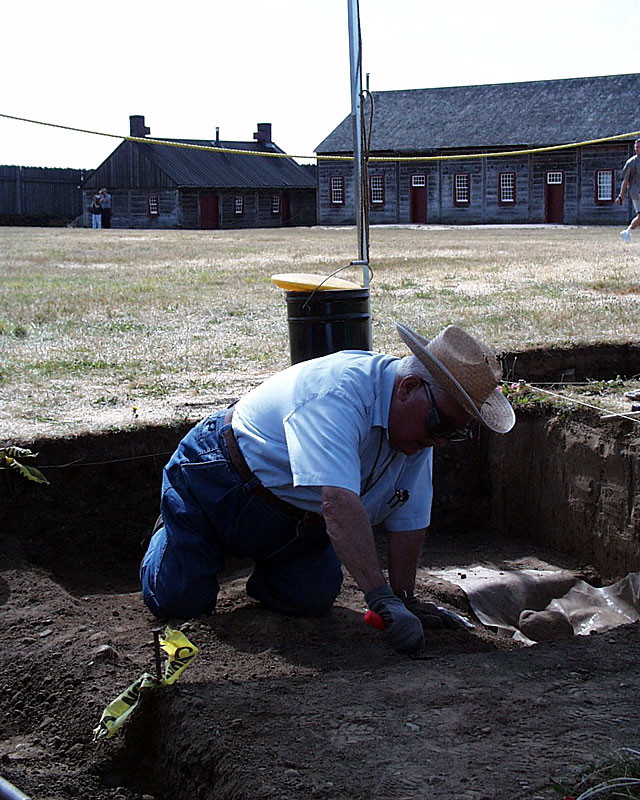 News Release Date:
April 24, 2007
Contact: Douglas Wilson, Ph.D., 360-816-6251
Paul Lawson, a 16-year National Park Service volunteer has made the largest donation of books and journals pertaining to the archaeology and history of the Pacific Northwest to the Archives and Reference Collection of the Northwest Cultural Resources Institute at Fort Vancouver National Historic Site. The over 2000 books and journal volumes include works on ceramics, glass, Native American items, antiques, historical references, and archaeological sites. Even subjects as esoteric as the dating of barbed wire are included in the collection.
"Paul's donation is a crowning achievement of many years of service to Fort Vancouver," said Doug Wilson, Director of the Institute, "This collection will greatly augment the Archives and Reference Collection and will serve generations of students, volunteers, and other researchers." In addition, Lawson donated a substantial amount of archaeological field equipment.
Paul Lawson began volunteering at Fort Vancouver in 1988. He worked during the third year of the Oregon Archaeological Society's excavation of the Counting House or New Office (ca. 1845). Over the following 16 years, he donated thousands of hours to the park in archaeological excavation and the cleaning, treating, study, and cataloging of artifacts in the museum. As a volunteer, he helped to create the digital photography archive, which allows the public to observe museum specimens on-line.
Lt. Col. Paul Lawson served at Vancouver Barracks from 1958 to 1962 as Subsector Commander in charge of supervision and training of Army Reserve strength in Oregon and southwest Washington. Paul served in World War II in North Africa and the Italian Campaigns with the 34th Infantry Division and received the Silver Star and two Bronze Stars. After retiring from the army, he was State Geologist at the Bureau of Mines until 1987.
Background: Fort Vancouver National Historic Site, a unit of the National Park Service, is the heart of the Vancouver National Historic Reserve. The Vancouver National Historic Reserve brings together a national park, a premier archaeological site, the region's first military post, an international fur trade emporium, one of the oldest operating airfields, the first national historic site west of the Mississippi River, and a waterfront trail and environmental center on the banks of the Columbia River. The partners of the Reserve teach visitors about the fur trade, early military life, natural history, and pioneers in aviation, all within the context of Vancouver's role in regional and national development. The Reserve's vast array of public programs -- including living history events, festivals, cultural demonstrations, exhibits, active archaeology, and other special activities -- create a dynamic, fun, and unique tourist destination for people of all ages.