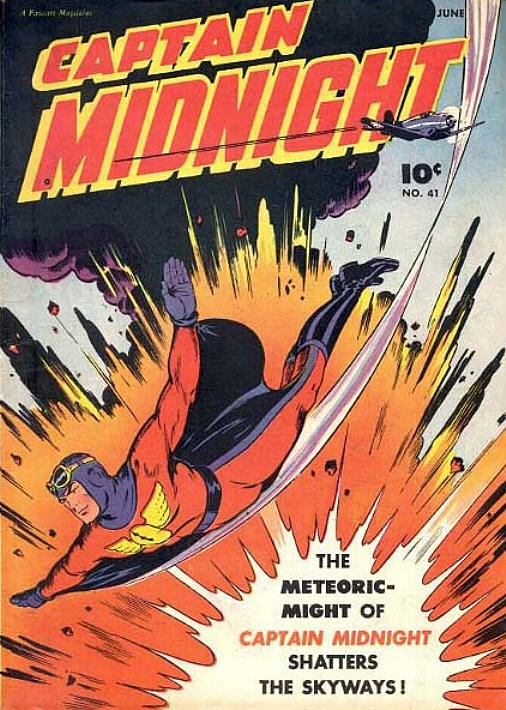 News Release Date:
April 30, 2013
Contact: Justine Hanrahan, 360-735-7746
Contact: Aaron Ochoa, 360-816-6233
Visit Pearson Air Museum in your local national park on May 11th at 2:00 p.m. to experience radio theatre as it was in 1939, for free, with "Captain Midnight Flies Again!" 
Fort Vancouver National Historic Site introduces free live radio theatre to visitors on May 11, 2013, at 2:00 p.m. at Pearson Air Museum. This program features live readings from the script of Captain Midnight, a popular radio serial from 1939, in theatrical form. Visitors witness the story of Captain Midnight and his friends through engaging voice acting, live sound effects, and 1939 costumes. 
Captain Midnight was a nightly radio show that broadcast the adventures of Captain Midnight - an ace pilot - and his gunner sidekick. The constant conflict between Captain Midnight and the notorious Ivan Shark - a cunning villain - draws listeners of all ages. 
Working with several students from the Vancouver School of Arts and Academics, the National Park Service is thrilled to engage local high school students to prepare this unique and special event. Stefan Matusak, one of the students working on the project, described the show as "a fun experience for everyone, a real bridge between different generations of entertainment." Matusak is a junior at the Vancouver School of Arts and Academics and voices the Announcer in "Captain Midnight Flies Again!"
WHEN: Saturday, May 11, 2013. 2:00 p.m. Performance lasts approximately 1 hour.
WHERE: Pearson Air Museum, 1115 E 5th Street, Vancouver, WA 98661
COST: Free. Admission to Pearson Air Museum is free everyday. "Captain Midnight Flies Again!" is free.