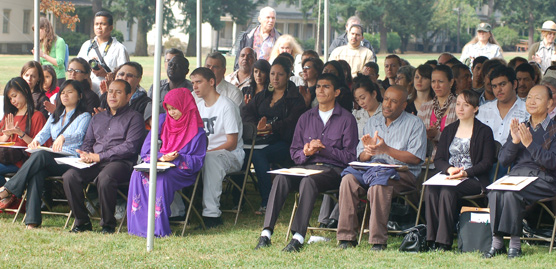 News Release Date:
September 13, 2012
Contact: Kimm Fox-Middleton, Special Events & Volunteer Manager, 360-816-6243
Contact: Greg Shine, Chief Ranger & Historian, 360-816-6231
 VANCOUVER, WA -For the third consecutive year, the U. S. National Park Service at Fort Vancouver National Historic Site will host a U. S. Citizenship and Immigration Services (USCIS) naturalization ceremony at the national park as part of a national Constitution Day & Citizenship Day observance on Friday, September 14, 2012.
Candidates from twenty different countries -- including Afghanistan, Bosnia-Herzegovina, People's Republic of China, Ethiopia, Germany, Haiti, India, Iran, Japan, Kazakhstan, Mexico, Moldova, Philippines, Romania, Russia, South Korea, Ukraine, Uzebekistan, Venezuela, and Vietnam -- are scheduled to become United States citizens at the national park.
The ceremony will take place at 11:00 a.m. at the historic Parade Ground at Fort Vancouver, in a tented area west of the Bandstand. The event is free and the public is invited to attend.
Welcome remarks will be presented by Karen Williams, USCIS Immigration Services Officer, and the Honor Guard from VFW Post 7824 will present the colors. Evelyn Sahli, Field Office Director for USCIS in Portland, Oregon, will give the opening remarks, present the candidates for citizenship and administer the Oath of Allegiance. National Park Service Superintendent Tracy Fortmann will deliver the keynote address, followed by a congratulatory audio message from the President of the United States. Ms. Sahli will conclude with the presentation of citizenship certificates and closing remarks.

"Fort Vancouver remains an ideal setting for such an important event," exclaimed Tracy Fortmann, Park Superintendent, "and we hope to continue to host it here each year. National parks, like Fort Vancouver, speak to who we are as a people and as a Nation; they are integral to the American experience. It seems fitting that this event is held here, in a location recognized internationally for its cultural heritage."

"I can't think of places more appropriate to welcome our newest citizens than national parks," said National Park Service Director Jonathan Jarvis. "National parks preserve significant natural resources and cultural heritage sites and are places where one can learn about and reflect on the American identity and the responsibilities of citizenship."

The National Park Service and the U.S. Citizenship and Immigration Services have an official partnership that encourages both agencies to co-host naturalization ceremonies in these special places set aside for public enjoyment and historical commemoration.
In 2011, more than 30 national parks held ceremonies for nearly 1,000 new Americans. Celebration sites included presidential homes, the Washington Monument, the Statue of Liberty, the Civil War battlefield at Vicksburg, the St. Louis Arch, and Yosemite National Park.

BACKGROUND: Fort Vancouver National Historic Site is one of the 397 national parks which make up the National Park System and it is located in both Washington and Oregon. This national park is also the heart of the Vancouver National Historic Reserve which is located in Vancouver, Washington. The Vancouver National Historic Reserve brings together a national park, a premier archaeological site, the region's first military post, an international fur trade emporium, one of the oldest operating airfields, the first national historic site west of the Mississippi River, and a waterfront trail and environmental center on the banks of the Columbia River. The partners of the Reserve teach visitors about the fur trade, early military life, natural history, and pioneers in aviation, all within the context of Vancouver's role in regional and national development. The National Park Service's vast array of public programs -- including living history events, festivals, cultural demonstrations, exhibits, active archaeology, and other special activities - serve communities in Washington and Oregon and create a dynamic, fun, and unique tourist destination for people of all ages.