35 to Become U.S. Citizens at Fort Vancouver National Historic Site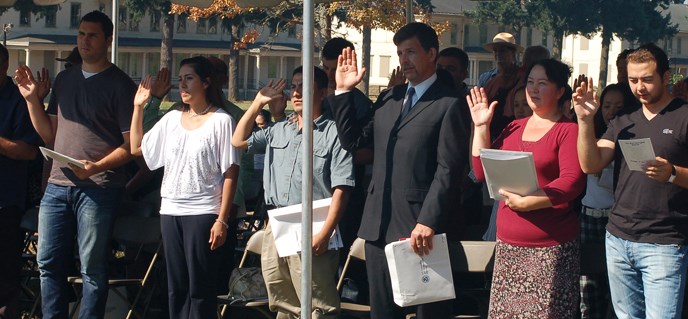 Date:
September 15, 2014
Contact:
Claire Nicholson, USCIS Public Affairs Officer
, 202-288-1637
Contact:
Greg Shine, Chief Ranger & Historian
, 360-816-6231
Contact:
Eva Dodd, Park Guide
, 360-816-6241
USCIS & NPS to Welcome New Citizens During Constitution Day and Citizenship Day Celebration
VANCOUVER, WA. - On Sept 19, U.S. Citizenship and Immigration Service (USCIS) will conduct a naturalization ceremony at Fort Vancouver National Historic Site, a unit of the National Park Service (NPS).
Thirty-five new citizens will be sworn in by Portland Field Office Director Evelyn Sahli. NPS Superintendent Tracy Fortmann will welcome the candidates and their families and connect the event to the national park's multicultural history. Keynote speaker for this event is Bob Knight, president of Clark College and the former Commander of Vancouver Barracks. The new citizens come from countries as diverse as El Salvador, Bhutan, Burma, Vietnam, Ukraine, Russia, Kazakhstan and Singapore.
This event is part of USCIS' annual celebration of Constitution Day and Citizenship Day. More than 27,000 people will become U.S. citizens during approximately 160 naturalization ceremonies across the country from Sept. 16 to Sept. 23.
USCIS invites new citizens, their families and friends to share their experiences from the ceremonies via social media using the hashtag #newUScitizen.
Constitution Day and Citizenship Day is commemorated every Sept. 17 in honor of the signing of the U.S. Constitution in 1787. In 1952, President Harry Truman signed a bill formalizing the celebration of Citizenship Day. In 2004, Congress established Sept. 17 as Constitution Day and Citizenship Day.
The NPS and the USCIS have an official partnership that encourages both agencies to co-host naturalization ceremonies in these special places set aside for public enjoyment and historical commemoration. This will be the fifth year that this event has been held at Fort Vancouver National Historic Site.
Date & Time: Sept 19, 2014 at 11 a.m.
Location: Parade Ground, Fort Vancouver National Historic Site, 1501 E. Evergreen Blvd (near the Bandstand), Vancouver, WA 98661
Last updated: February 28, 2015