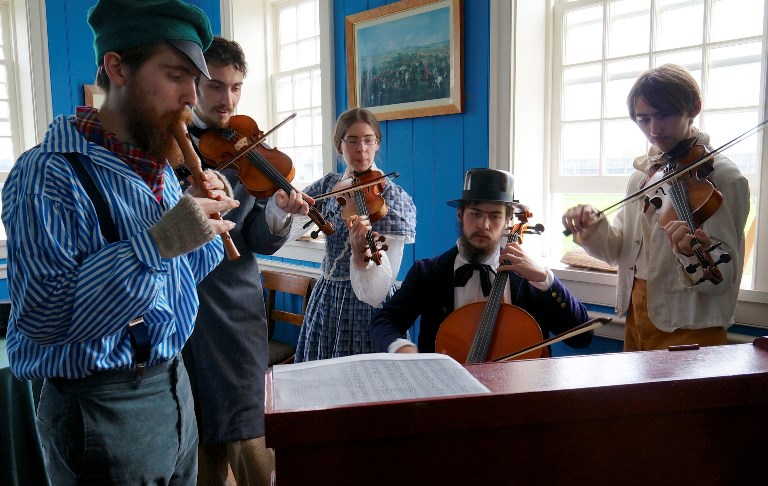 News Release Date:
November 28, 2014
Contact: Robert Gutierrez, (360) 816-6247
Friends and families can experience the sights and sounds of the 1840s fur trade Christmas season at Fort Vancouver National Historic Site on Saturday, December 13 from 10 am to 3 pm.
At the reconstructed fort, visitors will hear caroling by the Madrigal Singers, enjoy warm holiday wassail, games, music, and historical dancing. "There will be several ongoing handcraft activities so families can make their own beautiful holiday treasure to decorate their homes or to give as gifts," said park Superintendent Tracy Fortmann. Your local national park will provide all the materials to make wooden toy tops, wreaths, and potpourri ornaments. The popular blacksmithing and black powder demonstrations will also be held throughout this holiday event.
Don't forget to bring your camera to capture your family in the historic Hudson's Bay Company holiday scene! Visitors are welcome to take holiday photos of the decorated fort and with costumed re-enactors. The historic ambience at Christmas at Fort Vancouver will provide a memorable old-fashioned holiday scene as visitors' modern clothing contrasts with 1840s fashions.
"Christmas at Fort Vancouver gives visitors an opportunity to see how the employees of the Hudson's Bay Company celebrated the festive time around Christmas and New Year's Day. After months of hard work, it was one of the few times a year when all the employees of the Hudson's Bay Company were off from work and able to celebrate together," said Chief Ranger and Historian Greg Shine.
To make the most of your holiday fun, please also visit the Pearson Air Museum and Jack Murdock Aviation Center. See newly added historic planes and exhibits, such as a recently arrived 1929 Travel Air B-4000 bi-plane.
Admission to the event is $3 per adult, individuals aged 15 years and younger are free, and you can take home the wreath, top, and crafts you make on-site. American the Beautiful Interagency Passes accepted.
Schedule of events at the reconstructed fort:
10 am - 2 pm: Christmas caroling by the Madrigal Singers
10 am - 3 pm: Ongoing hands-on activities:
Build your own toy top
Taste apple wassail
Craft your own miniature wreath
Gather 'round for a winter story
Play games of the 1840s
Make your own Victorian handcraft
Pose for a holiday photo
Kitchen open for demonstration
Blacksmith Shop open for demonstration
11 am: Blast of Black Powder! Historic Weapons Demonstration
1 pm - 3 pm: Learn a holiday jig and sing along to carols! Participatory music and dancing in the Counting House
2 pm: Blast of Black Powder! Historic Weapons Demonstration
Cost: $3 adult, youth aged 15 and under are free
When: Saturday, December 13, 2014. Activities at the reconstructed fort are available from 10 am - 3 pm. Fort is open to the public 9 am - 4 pm.
Where: Fort Vancouver National Historic Site, 1001 E 5th Street, Vancouver, WA 98661