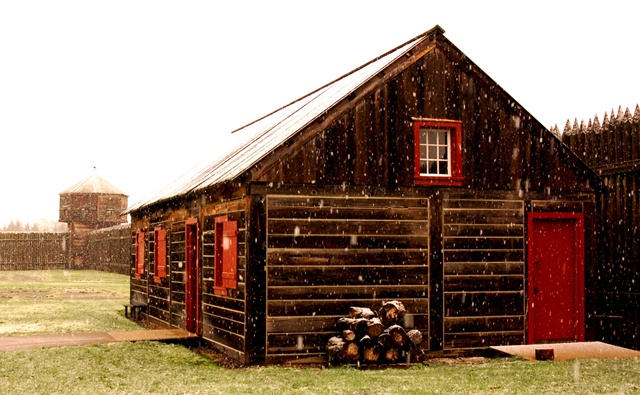 News Release Date:
November 14, 2012
Contact: Cassie Anderson, (360) 816-6247
Experience the sights and sounds of the 1840s holiday season at Christmas at Fort Vancouver, on Saturday December 8 from 10:00 a.m. to 3:00 p.m. at Fort Vancouver National Historic Site.
At the park's annual Christmas at Fort Vancouver event, you can mark the occasion today as the employees of the Hudson's Bay Company did in the 1840s. Enjoy caroling by the Madrigal Singers, toy top, wreath and handcraft making, nonalcoholic holiday beverages, holiday stories, holiday artifacts, children's games, holiday music and dancing, and blacksmithing and black powder demonstrations!
New this year is a completely unique holiday photo opportunity - pose in old-fashioned holiday scenes with costumed re-enactors for a photo that's truly one of a kind (please bring your own camera to capture your scene). "At Christmas at Fort Vancouver last year, we realized the public had a lot of fun taking photos alongside our costumed re-enactors," begins Cassie Anderson, park ranger. "This year, we're giving you more of a chance to do just that! Bring your own camera, and pose by costumed volunteers in the festive atmosphere of the fort. Whether you gift, frame, email, facebook, or instagram your photo, we hope it helps you remember a holiday celebration unlike any other in your national park." Historic background and costumed re-enactors are provided (costumes are for re-enactors only; members of the public will be in their own modern clothes). Don't forget to bring your own camera to capture the scene!
Christmas at Fort Vancouver expresses how the employees at Hudson's Bay Company celebrated the festive time around Christmas and New Year's Day. After months of hard work, it was one of the few times in the year when all the employees of the Hudson's Bay Company were off from work and able to celebrate together.
"Holidays and festivities are universal," says Cassie Anderson, park ranger. "Connect to your friends and family while you connect to your national park by crafting fun, historic mementos - like wreaths and tops - to take home or give to others this holiday season."
Schedule of events at the reconstructed fort:
10:00-11:30 a.m. - Christmas Caroling by the Madrigal Singers
10:00 a.m.-3:00 p.m. - Ongoing Hands-On Activities:
·Build your own toy top

·Taste apple wassail

·Craft your own miniature wreath

·Gather 'round for a winter story

·Play games of the 1840s

·Make your own Victorian handcraft

·Pose for a holiday photo

·Check out artifacts of a holiday feast

·Kitchen open for demonstration

·Blacksmith shop open for demonstration
11:00 a.m. - Blast of Black Powder! Historic Weapons Demonstration
1:00-3:00 p.m. - Learn a holiday jig and sing along to carols! Participatory music and dancingin the Counting House
2:00 p.m. - Blast of Black Powder!Historic Weapons Demonstration
Admission is $3 per adult, individuals aged 15 years and younger are free, and you take home the wreath, top, and crafts you make on site! For more, please call the Fort Vancouver NHS Visitor Center at (360) 816-6230. 
Make a day of your visit to the park by visiting other venues of the Vancouver National Historic Reserve, such as Pearson Air Museum and the Marshall House, for more holiday fun! Information at www.fortvan.org.
COST: $3 adult/youth 15 and under are free. America the Beautiful Interagency Passes accepted.
WHEN: Saturday, December 8, 2012. Activities at the reconstructed fort are available from 10:00 a.m. - 3:00 p.m. Fort is open to the public 9:00 a.m. - 4:00 p.m.
WHERE: Reconstructed fort, 1001 E 5th St, Vancouver, WA 98661
BACKGROUND: Fort Vancouver National Historic Site is one of the 398 national parks which make up the National Park System and it is located in both Washington and Oregon.This national park is also the heart of the Vancouver National Historic Reserve which is located in Vancouver, Washington. The Vancouver National Historic Reserve brings together a national park, a premier archaeological site, the region's first military post, an international fur trade emporium, one of the oldest operating airfields, the first national historic site west of the Mississippi River, and a waterfront trail and environmental center on the banks of the Columbia River. The partners of the Reserve teach visitors about the fur trade, early military life, natural history, and pioneers in aviation, all within the context of Vancouver's role in regional and national development. The National Park Service's vast array of public programs -- including living history events, festivals, cultural demonstrations, exhibits, active archaeology, and other special activities - serve communities in Washington and Oregon and create a dynamic, fun, and unique tourist destination for people of all ages.
-NPS-