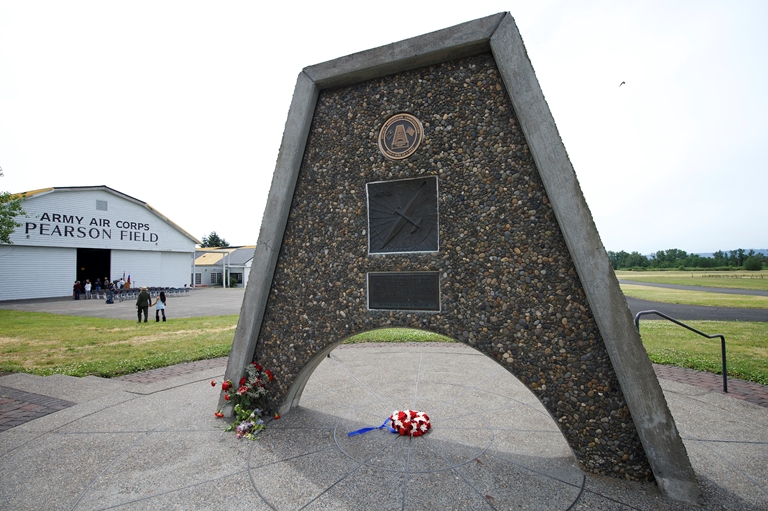 News Release Date:
June 8, 2015
Contact: Dr. Bob Cromwell, Pearson Air Museum Manager, (360) 816-6253
Join the National Park Service and friends at Pearson Air Museum at 10:30 am on Saturday, June 20, for a special program celebrating the 78th anniversary of Valery Chkalov's landmark transpolar flight from Moscow, Russia, to Pearson Field, and its significance to our community.
The program will include a talk, vignette, and music. Mary Kline Rose, formerly of the Chkalov Cultural Exchange Committee and presently with the Friends of Fort Vancouver, a non-profit support group for Fort Vancouver National Historic Site, will present on the history of this landmark flight. A twenty-piece group from the Vancouver Community Concert Band, under the direction of Dr. Jim Rourk, will provide music from the era.
"I have had a special interest in the transpolar flight story and its association with Pearson Field for years," said Rose. "Valery Chkalov is heralded for his aviation achievements in Russia to this day, and I have had many wonderful friends and associations with people in Russia due to the continued interest in the crew of the ANT-25 that landed here unexpectedly seventy-eight years ago. Commemorating the 1937 landing at this national park provides an opportunity for communities in Russia and the United States to continue building relationships."
"As the National Park Service nears its centennial year in 1916, it is especially rewarding to offer a wide variety of interpretive events throughout the park, such as honoring the first transpolar flight," said Pearson Air Museum Manager Dr. Bob Cromwell. "Fort Vancouver National Historic Site is everyone's national park, and the incredibly diverse historical stories associated with the park resonate with people from around the world."
"There are many historical ties between this site and Russia," said Superintendent Tracy Fortmann, "from Fort Vancouver's partnership with the Russian American Company in the fur trade era, to the two Soviet flights that landed at Pearson Field. The Chkalov flight established a lasting connection between the United States and Russia, and we are pleased to host this program that highlights this groundbreaking event."
What: "Valery Chkalov: From Moscow to Pearson" event celebrating the world's first transpolar flight
Where: Pearson Air Museum, 1115 E. Fifth Street, Vancouver, WA 98661
When: Saturday, June 20, 2015, 10:30 am
Cost: Free