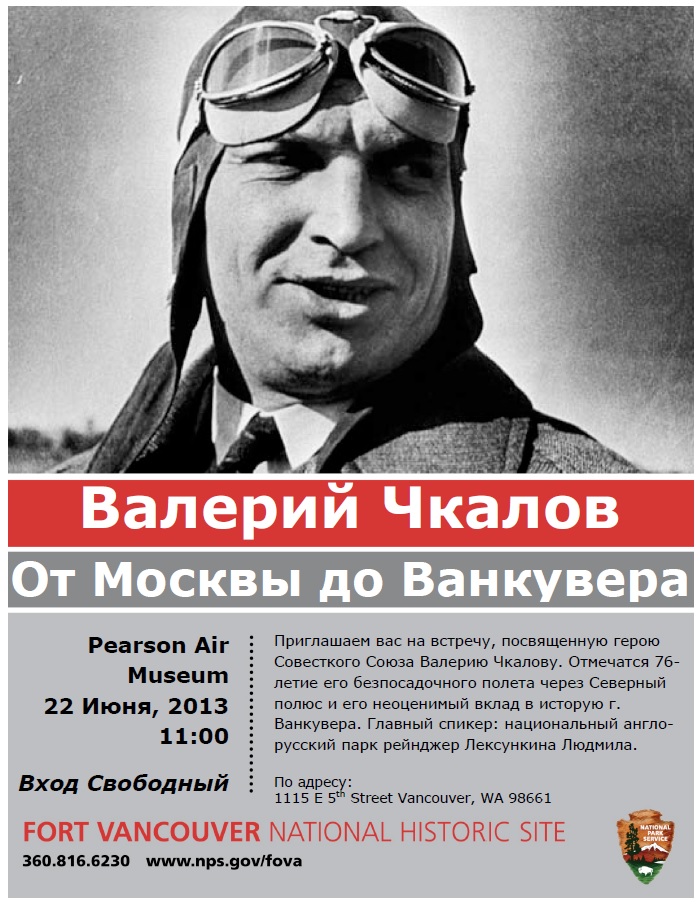 News Release Date:
June 10, 2013
Contact: Luda Leksunkin, (360) 816-6233
Contact: Aaron Ochoa, (360) 816-6233
Who: National Park Service, Park Ranger Luda Leksunkin
What: "Valery Chkalov: From Moscow to Pearson" Bilingual English/Russian Lecture
When: Saturday June 22, 2013, 11:00 a.m.
Where: Pearson Air Museum, 1115 E 5th Street, Vancouver, WA 98661
Cost: Free
Join the National Park Service for a special talk celebrating the 76th anniversary of Valery Chkalov's landmark transpolar flight from Moscow, Russia to Pearson Air Field and its significance to our local community. Lecture presented in Russian and English by Russian-American National Park Ranger Luda Leksunkin, Saturday, June 22, 11:00 a.m., Pearson Air Museum, free.
"I've been passionate about Chkalov's story since I began working in this park," says Luda Leksunkin, park ranger. "Chkalov's character, leadership, and unprecedented skill and precision were integral to his aviation accomplishments. His feats are relevant to all Russians and Americans, but are especially important to me and to this community, because his flight – the first flight across the north pole – landed right here at Pearson Air Field in 1937. When General George C. Marshall welcomed Chkalov and his crew with open arms, he united the U.S. and U.S.S.R, showing the world that working together is possible. "
As the National Park Service nears its centennial in 1916, it continues to be relevant to the communities it serves and accurate to the stories it preserves. "Offering interpretive programs in multiple languages is a way of making sure all community members are welcome and included in this national park," continues Leksunkin, "Fort Vancouver is everyone's park."
When Clark County residents were asked the primary language spoken in their homes in the 2000 U.S. Census, 6,115 county residents replied Russian. The National Park Service hopes this celebratory event – held in Russian and in English, and the first of many to come – will especially connect members of Vancouver's Russian-American population to the story of Chkalov and to national parks.
"There are many historical ties between this site and Russia," begins Tracy Fortmann, superintendent. "From Fort Vancouver's partnership with the Russian American Company in the fur trade era, to the two Soviet flights that landed at Pearson Field. The Chkalov flight, particularly, established a lasting connection between the United States and Russia, and we are pleased to host this program that highlights this groundbreaking event."
Background:
Fort Vancouver National Historic Site, a unit of the National Park Service, is at the heart of the Vancouver National Historic Reserve. The Vancouver National Historic Reserve brings together a national park, a premier archaeological site, the region's first military post, an international fur trade emporium, one of the oldest operating airfields, the first national historic site west of the Mississippi River, and a waterfront trail and environmental center on the banks of the Columbia River. The partners of the Reserve teach visitors about the fur trade, early military life, natural history, and pioneers in aviation, all within the context of Vancouver's role in regional and national development. The Reserve's vast array of public programs -- including living history events, cultural demonstrations, exhibits, active archaeology, and other special events and activities -- create a dynamic, fun, and unique tourist destination for people of all ages.