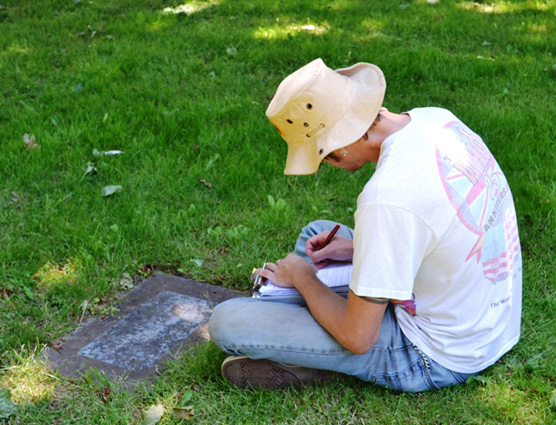 News Release Date:
September 9, 2011
Contact: Douglas C. Wilson, 360-921-5241
Contact: Elaine Dorset, 360-816-6254
PUBLIC ARCHAEOLOGY FIELD SCHOOL RECORDS HUNDREDS OF MONUMENTS IN VANCOUVER'S OLD CITY CEMETERY
VANCOUVER, WA - This summer, students from Portland State University and Washington State University-Vancouver recorded239 blocks, representing 327 individual monuments at Vancouver Washington's historic Old City Cemetery.

The project, part of the National Park Service's 10th annual Public Archaeology Field School at Fort Vancouver, was geared to collecting information on the monuments to assist in their protection.
"I think everyone is concerned about vandalism and inappropriate behavior occurring in our cemeteries,"reported Dr. Doug Wilson, National Park Service Archaeologist and Adjunct Professor of Anthropology at Portland State University. "The Old City Cemetery contains some of the most historical monuments in the city; people who are tied to the Hudson's Bay Company fur trade post, the early U.S. military fort, and the Oregon Trail. It is worthy of protection not only for its historical significance, but because it is considered by many to be sacred ground."

The students' results represent about a third of the monuments in the cemetery and some of the earliest. Each monument was subject to a four page form that recorded its attributes and condition. At least one digital image was taken of each monument.This year's results have been provided to the City of Vancouver, the Washington Department of Archaeology and Historic Preservation, and the Clark County Genealogical Society.

"Collaborative partnership projects like this are critical to the stewardship of our historical resources," said Tracy Fortmann, Superintendent of Fort Vancouver National Historic Site. "Created in 1916, the National Park Service will soon enter its second century of serving the American people. Our mission of preservation, education, and interpretation -- not just today but in perpetuity -- places us in a unique stewardship role which we take very seriously."
Dr. Wilson stated, "We hope to continue this project next year to include recording more of the cemetery. The way we as a people treat our parks and cemeteries is a measure of the health of our community.I hope that this collaborative project will spur more people to care about our community's historical assets while training the new generation of park stewards."

BACKGROUND: The Vancouver National Historic Reserve brings together a national park, a premier archaeological site, the region's first military post, an international fur trade emporium, one of the oldest operating airfields, the first national historic site west of the Mississippi River, and a waterfront trail and environmental center on the banks of the Columbia River. The partners of the Reserve teach visitors about the fur trade, early military life, natural history, and pioneers in aviation, all within the context of Vancouver's role in regional and national development. The Reserve's vast array of public programs -- including living history events, festivals, cultural demonstrations, exhibits, active archaeology, and other special activities -- create a dynamic, fun, and unique tourist destination for people of all ages.

EXPERIENCE YOUR AMERICA:  The National Park Service cares for special places saved by the American people so that all may experience our heritage.