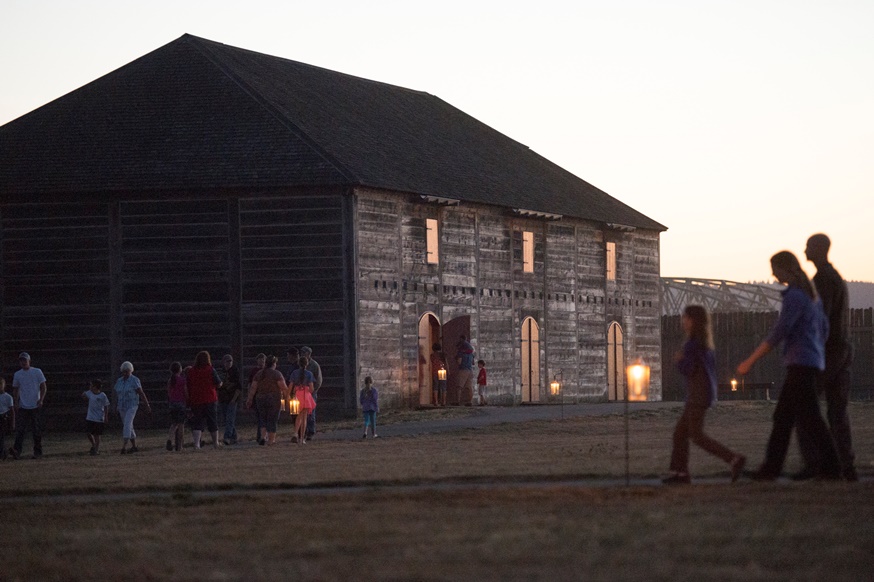 News Release Date:
August 23, 2016
Contact: Acting Chief Ranger Bob Cromwell, (360) 816-6253
On September 10, 2016, Fort Vancouver National Historic Site will host its annual Campfires & Candlelight event. This free event is the national park's largest living history event of the year.
Beginning at 4 pm, the "Timeline of History" leading from East Fifth Street to the gates of Fort Vancouver will be the site of several camps filled with costumed reenactors sharing the history of the site. As visitors walk closer to the fort, they will be transported further and further back in time. Along this stretch, Living History Group NorthWest will host a World War II camp, the Buffalo Soldiers NW Chapter 9th & 10th Horse Cavalry will host a camp representing Buffalo Soldiers at Vancouver Barracks, and the First Oregon Volunteer Cavalry and Infantry will host a Civil War-era camp. Other camps populated by National Park Service volunteers will represent the site's World War I, Oregon Trail, and Hudson's Bay Company history.
At 5 pm, the gates of the reconstructed Fort Vancouver will open. Inside the fort, reenactors will recreate the night of September 26, 1844. On this night 172 years ago, a massive wildfire that had sparked to the northeast of the fort was moving towards the fort, and would eventually come within 300 feet of the fort's walls. Visitors will be able to interact with volunteers portraying specific characters who were present on that night, and will learn not just about the story of the fire, but also about other important issues from the time period. Learn more about the history behind the event here.
Fort Vancouver and the Timeline of History camps will be open to the public until 10 pm, offering a rare chance to see the fort after dark, and see buildings lit by candlelight, as they would have been in the 19th century.
"Campfires & Candlelight is one of our favorite events, and its our pleasure to bring it to our community year after year," said Acting Chief Ranger Bob Cromwell. "The theme for our 2016 event - called "Night of the Fire" - is debuting this year, and we are excited to share this exciting - and still relevant - moment in the site's history."
What: Campfires & Candlelight at Fort Vancouver National Historic Site
Where: 1001 E. Fifth Street, Vancouver, WA 98661
When: The Timeline of History opens at 4 pm. Fort Vancouver opens at 5 pm. The event ends at 10 pm.
Cost: Free