Fort Vancouver NHS to Host Historical Blacksmithing Demonstrations October 3 & 4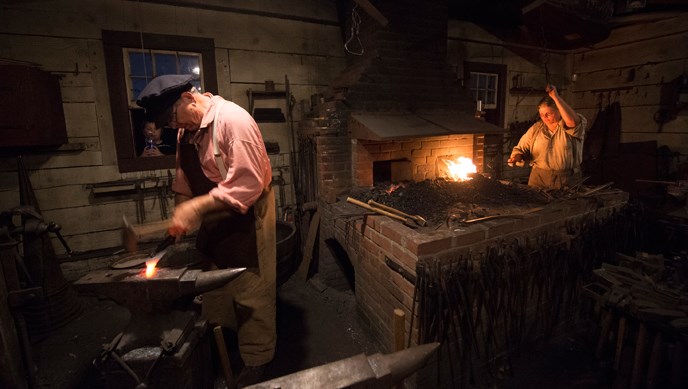 Date:
September 16, 2015
Contact:
Greg Shine, Chief Ranger & Historian
, 360-816-6231
Contact:
Tom Dwyer, President, Fort Vancouver Historic Trades Guild
VANCOUVER, WA — The National Park Service, the Fort Vancouver Historic Trades Guild and the Friends of Fort Vancouver will host two days of historical blacksmithing demonstrations in the reconstructed Blacksmith Shop at Fort Vancouver National Historic Site, October 3 and 4, 2015, from 9 am to 4 pm each day.   
Reservations are required, as attendance is limited to 35 attendees each day. Reservations may be made by calling the Contact Station at Fort Vancouver NHS, 360-816-6244, between 9 am and 4:30 pm daily. The cost of attending the demonstrations is $20 per day, payable at the door.
Jay Close, a master blacksmith trained at Colonial Williamsburg, will lecture and demonstrate blacksmithing techniques used in the 1800s while fabricating tools and utensils that would have been used historically in the kitchen and garden at the Hudson's Bay Company's Fort Vancouver.  
"I admire the objects and designs of our past," Mr. Close said, "but I'm also intrigued by the tools and processes that produced them. It's not just romanticism, but a conviction that the heart of the blacksmiths' trade is what the skilled worker can accomplish with simple tools and very direct methods," said Mr. Close.
This will be the third time Jay Close has demonstrated at the fort. He became a journeyman blacksmith at Colonial Williamsburg in 1994, has taught numerous classes on historical ironwork around the U.S, worked at a consultant on the Mel Gibson film 'The Patriot', and has published several articles including a case study of the role of the blacksmith in support of construction of Tudor brick mansions.
"Having someone of Jay's reputation lecture and demonstrate to fort volunteers is an absolutely wonderful way to update our blacksmithing skill level. Making the training open to the public makes the event even more special," said Tom Dwyer, president of the Fort Vancouver Historic Trades Guild.
"The blacksmith story at Fort Vancouver is a rich and complex one -- and not about a sleepy shop shoeing horses," said Greg Shine, chief ranger and historian. "The Hudson's Bay Company located its principal depot blacksmith shop at Fort Vancouver, and it produced trade axes and numerous steel and iron items to support the company's trade throughout the vast Columbia District, from Russian Alaska to Mexican California. As we're revitalizing our Blacksmith Shop apprentice program, the type of advanced journeyman training Jay provides is essential for our volunteer smiths so we can continue to fabricate historically-correct items in the blacksmith shop in a historically correct manner."
WHAT: Historical Blacksmithing Demonstrations at Fort Vancouver NHS
WHO: Jay Close, master blacksmith; hosted by the National Park Service at Fort Vancouver National Historic Site, Fort Vancouver Historic Trades Guild, & Friends of Fort Vancouver.
WHEN: October 3 & 4, 2015, 9 am to 4 pm.
WHERE: Blacksmith Shop at Fort Vancouver NHS, inside the reconstructed fort at 1001 E. Fifth St.
Last updated: September 16, 2015