Vintage Base Ball Returns to Fort Vancouver National Historic Site on July 25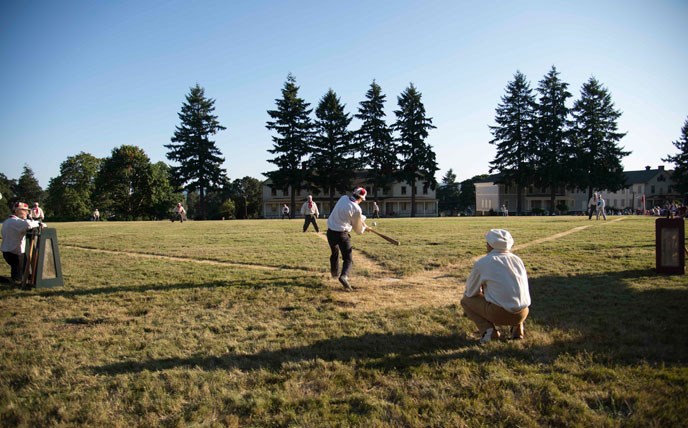 Date:
July 14, 2015
Contact:
Bobby Gutierrez, Park Ranger & Vintage Base Ball Event Coordinator
, 360-816-6247
Contact:
Greg Shine, Chief Ranger & Historian
, 360-816-6231
VANCOUVER, WA - The National Park Service at Fort Vancouver National Historic Site will host its popular evening of 1860s vintage base ball at 6:00 pm on Saturday, July 25, 2015, on the national park's historic Parade Ground.
UPDATE: Food and beverages will now be available for purchase during the event. The Friends of Fort Vancouver will have sodas, water, and Cracker Jack for sale, and The Nomad will have its variety of "Weird and Worldly Weiners" and hot dogs for sale as well. 
This event is a fun, free, and fantastic opportunity to travel back in time to 1867 to experience "base ball" (then two words) at its infancy, with costumed players and supporters, a brass band concert, and a mountain howitzer firing to start the game.
This living history demonstration will feature base ball played according to the rules in place in 1867. Costumed staff and volunteers will help visitors step back in history by portraying two of the Pacific Northwest's earliest baseball teams: the Sherman Base Ball Club, consisting of soldiers from the Army's Fort Vancouver, and the Occidental Base Ball Club of Vancouver.
Along with the costumed players will be well-dressed "cranks" (baseball fans from 1867), and music between innings provided by Dr. Jim Rourk and the Vancouver Community Concert Band.  Based on last year's successful experiment, a play-by-play will be provided over loudspeakers during the match game from the scorer's table, blending modern communication technology with nineteenth century terminology, historical tidbits and phrases, and explanation of on-the-field action.
"With our event just a week after Major League Baseball's All-Star Game and its festivities, visitors have an opportunity to visit a national park and explore the roots of the game so popular today," said Greg Shine, the park's chief ranger and historian.
"Base ball in 1867 was a very different game than what we play in 2015," said Shine. "The hurler—the predecessor of today's pitcher—threw to the striker's liking. Players wore no gloves, and could catch the ball on one bounce for an out—though such a practice was not considered gentlemanly. In a time of growing community rivalries, there was an extensive code of conduct to ensure all would play in a gentlemanly manner. Sliding into a base, while now a standard practice, was not considered a gentlemanly activity in base ball the 1860s."
Many historians credit the nineteenth century US Army for the spread of baseball throughout the country. On May 11, 1867, an organized team of soldiers from the Army's Fort Vancouver –dubbed the "Garrison Boys" by the press –played the Occidental Base Ball Club of Vancouver, with the soldiers winning by a score of 45 to 5. 
"Our match with not be an exact repeat of this historic game, in order to spare our participants the task of running around the bases so many times," joked Park Ranger Robert Gutierrez, the event organizer, "but we can assure the crowd that it will be a lot of fun and all will adhere to the code of conduct of the time. If not," he said with a smile, "the umpire may very well levy some fines."
To learn more about early baseball history in Vancouver, please download the park's historic resource study  The National Game is Decidedly 'On the Fly'": The Rise of Organized Base Ball in the Portland and Vancouver Area in 1867 at http://go.usa.gov/5cmh
Cost: Free!
What: 1860s Vintage Base Ball Match Game, Sherman Base Ball Club of Fort Vancouver vs. Occidental Base Ball Club of Vancouver
Who: Staff and volunteers at Fort Vancouver National Historic Site. Food and beverages by The Friends of Fort Vancouver and The Nomad: Weird and Worldly Weiners.
Where: Historic Parade Ground at Fort Vancouver National Historic Site, a unit of the National Park System.  
Free parking is available at the Fort Vancouver National Historic Site Visitor Center, 1501 E. Evergreen Blvd, Vancouver, WA 98661, along the Park Road, and along E. Fifth Street between Fort Vancouver Way and East Reserve St.
Food and beverages will be available for sale from The Friends of Fort Vancouver and The Nomad: Weird and Worldly Weiners 
When: 6:00 pm, Saturday, July 25, 2015
-END-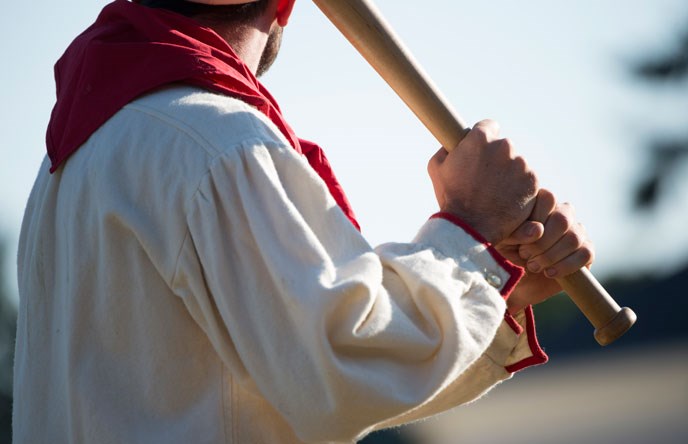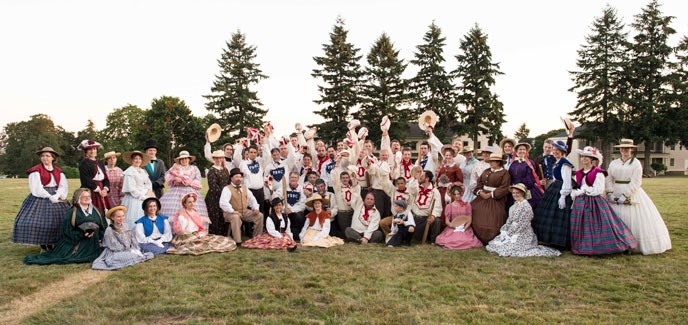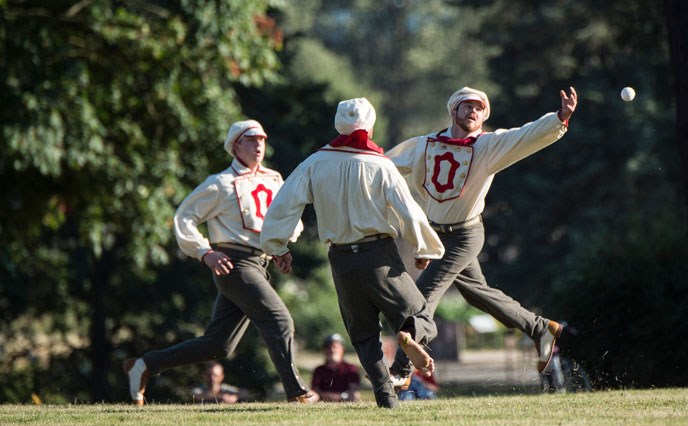 Last updated: July 22, 2015