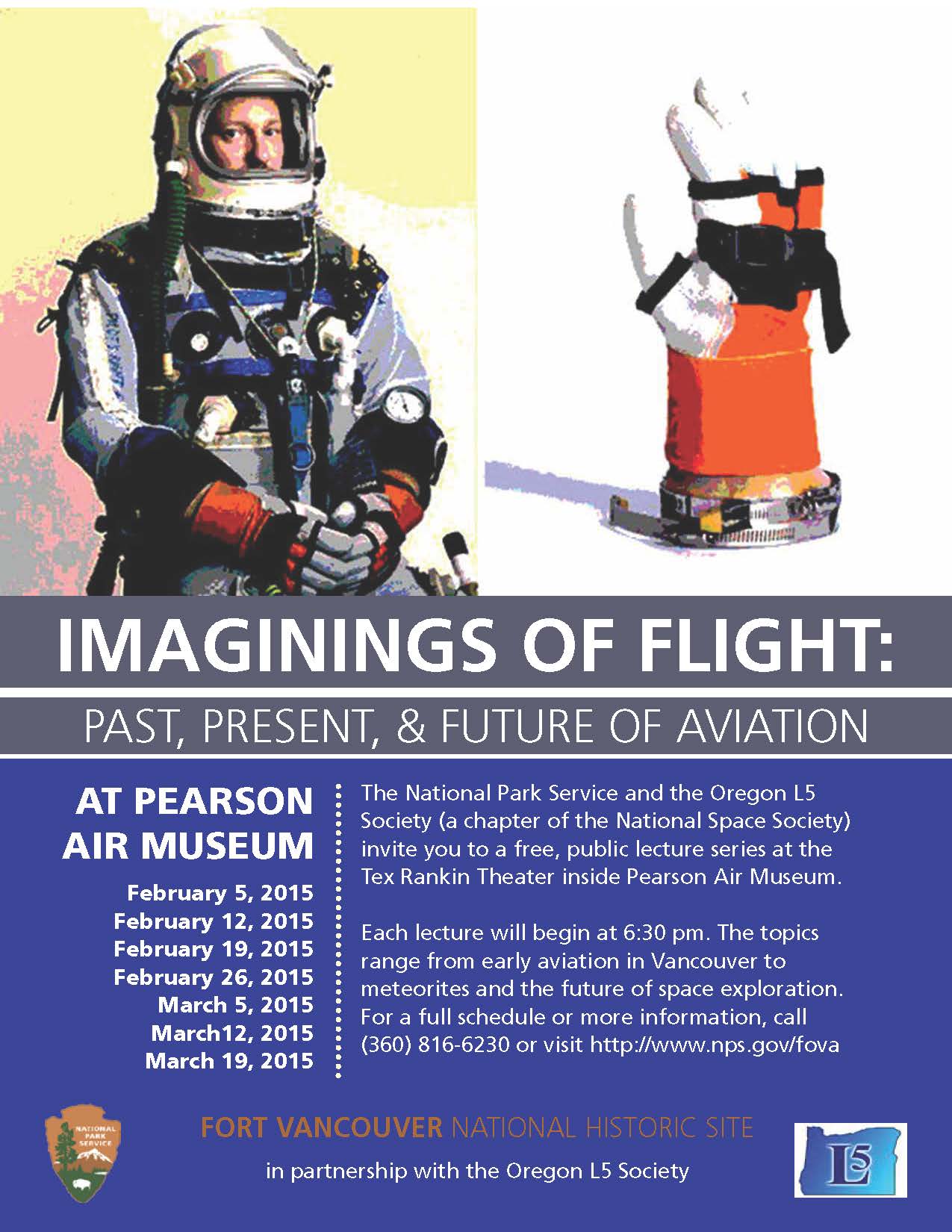 News Release Date:
January 21, 2015
Contact: Dr. Bob Cromwell, (360) 816-6253
VANCOUVER, WA-- The National Park Service at Fort Vancouver National Historic Site in cooperation with the Oregon L5 Society (a chapter of the National Space Society) is pleased to announce an aviation themed lecture series at the Pearson Air Museum and Jack Murdock Aviation Center.
"I want to commend Museum Director Bob Cromwell's work in bringing lecturers to share their unique experiences and vision associated with flight.  As demonstrated by the Wright Brothers, aviation was born from imagination. The lectures in this series demonstrate how imagination continues to drive aviation and space exploration to this day," Superintendent Tracy Fortmann noted. Fortmann further stated, "Without question, Bob has created a wonderful public opportunity for our community, which is perfectly timed as the National Park Service enters its second century."  
"We are thrilled to be working in partnership with the Oregon L5 Society to present this series of aviation-themed lectures," added Pearson Air Museum Manager Dr. Bob Cromwell. "This lecture series will present a mixture of aviation history, discussions on celestial bodies in our universe, and exploration and technological discussions of aviation and space of the present and future."
Mr. Charles Radley, President of the Oregon L5 Society, concurred adding, "We look forward to a long and beneficial relationship with the National Park Service at Pearson Air Museum, starting with the co-sponsorship of this lecture series.  The Oregon L5 Society appreciates the opportunity to connect with a wider audience in Vancouver and Clark County, and many of these lectures present current and future avenues of space exploration."
The seven lectures and their dates are as follows:
February 5, 2015: Robert Cromwell, Ph.D., National Park Service, "The Spruce Production Division's Vancouver Cut Up Mill and the Contribution to the Air War in World War I"
February 12, 2015: Dick Pugh, Cascadia Meteorite Laboratory, Portland State University, "The Meteorite Petting Zoo" (Mr. Pugh will bring meteorites for up close viewing, and encourages attendees to bring suspected meteorites for verification)
February 19, 2015: Charles Radley, Oregon L5 Society, "Mining the Moon With a Lunar Elevator"
February 26, 2015: Diana Deluca, Ph.D. "NA 337, The Commonwealth Air Crews and the Evolution of the Handley Page Halifax Bomber"
March 5, 2015:  Dan Dolan, Moon Base Builders, "Back to the Moon with the Lunar Rover Mission"
March 12, 2015: Dr. Cameron Smith, Portland State University, "Designs on Personal Space Exploration" (Dr. Smith is designing and building his own space craft and space suit, which he will bring for show and tell)
March 19, 2015: Matthew Simek, M.A. "The Life and Aviation Adventures of Lincoln Beachy, 1905-1912"
What: Lectures Series entitles, "Imaginings of Flight: the Past, Present, and Future of Aviation."
When: Seven separate, free public lectures will be given on Thursday evenings beginning February 5th and ending March 19th.  Each Lecture will start at 6:30 PM and will last approximately one hour.
Where: The Tex Rankin Theater at Pearson Air Museum and the Jack Murdock Aviation Center at Fort Vancouver National Historic Site, 1115 E. 5th Street, Vancouver , WA. 
Cost: Free
For more information, please contact Pearson Air Museum Manager Dr. Bob Cromwell.
BACKGROUND: Fort Vancouver National Historic Site is one of the 405 national parks which make up the National Park System and it is located in both Washington and Oregon.  This national park is also the hearth of the Vancouver National Historic Reserve brings together a national park, a premier archaeological site, the region's first military post, an international fur trade emporium, one of the oldest operation airfields, the first national historic site west of the Mississippi River, and a waterfront trail and environmental center of the banks of the Columbia River. The partners of the Reserve teach visitors about the fur trade, early military life, natural history, and pioneers in aviation, all within the context of Vancouver's role in regional and national development.  The National Park Service's cast array of public programs--including living history events, festivals, cultural demonstrations, exhibits, active archaeology, and other special activities- serve communities in Washington and Oregon and create a dynamic, fun, and unique tourist destination for people of all ages.