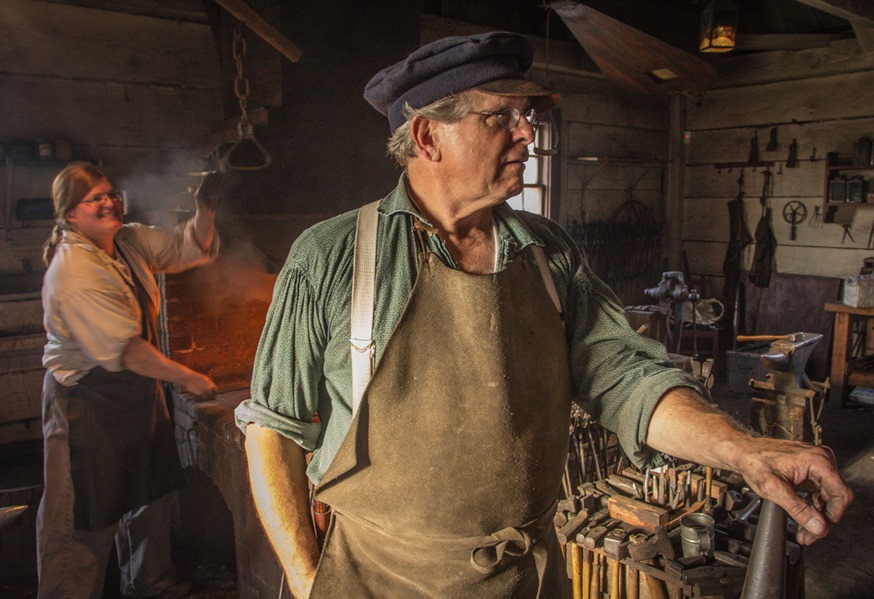 News Release Date:
June 9, 2016
Contact: Dr. Bob Cromwell, (360) 816-6253
Join the National Park Service, the Fort Vancouver Trades Guild Volunteers, and retired Colonial Williamsburg Blacksmith Jay Close at the Fort Vancouver Visitor Center on Thursday, June 16 at 6 pm for a public panel discussion on the history, art, and science of early 19th century blacksmithing skills.
"Blacksmithing was an essential industry across North America as Euro-Americans colonized the continent," said Bob Cromwell, Chief Ranger. "It is amazing to see the similarities in blacksmithing techniques used at sites such as Williamsburg, Virginia, all the way to the other side of the continent here at Fort Vancouver."
The panel will be composed of Jay Close, a retired expert blacksmith from Colonial Williamsburg, Tom Dwyer, the president of the Fort Vancouver Trades Guild and a volunteer blacksmith for the National Park Service, and Dr. Bob Cromwell, a trained archaeologist and the Acting Chief Ranger of Fort Vancouver National Historic Site (NHS). The panel will discuss the similarities and differences of the modern blacksmith programs at Colonial Williamsburg and Fort Vancouver National Historic Site, the advancement of technologies through time, and the role of archaeological research in documenting techniques.
This panel discussion caps a week long blacksmith training program hosted by Fort Vancouver NHS and sponsored by the Friends of Fort Vancouver. During the training, the usual daily public programs in the Fort Vancouver Blacksmith Shop will be on hiatus, but visitors are welcome to watch the demonstrations taught by Close. Close will be replicating specific iron artifacts from the park's museum collection, and will discuss manufacturing techniques used by the Hudson's Bay Company blacksmiths of the 1829-1860 period.
National Park Service Volunteer Tom Dwyer said, "The Trades Guild at Fort Vancouver has invited advanced blacksmiths from Colonial Williamsburg to do training programs for close to a decade. This program gives the volunteer blacksmiths a week long tutorial by a world class blacksmith. They, in turn, can share this knowledge with visitors to Fort Vancouver during living history demonstrations."
WHAT: "The Art of Blacksmithing," A Panel Discussion
WHEN: Thursday, June 16, 2016, 6 pm
WHERE: Fort Vancouver Visitor Center, 1501 Evergreen Blvd, Vancouver, WA 98661
COST: Free