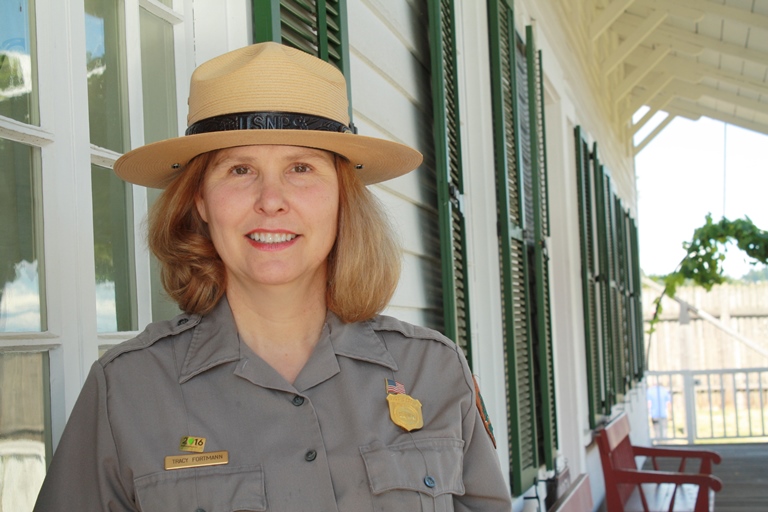 News Release Date:
February 23, 2016
Contact: Theresa Langford, (360) 816-6252
Tracy Fortmann, the Superintendent of Fort Vancouver National Historic Site since 2000, is being honored this week for her exemplary management of resources within the nationally significant urban park she oversees. Superintendent Fortmann is receiving the Appleman-Judd-Lewis Award for Cultural Resources Stewardship by a Superintendent. 

The Appleman-Judd-Lewis Award recognizes expertise and outstanding contributions to cultural resource stewardship and management by employees of the National Park Service. Offered annually, the three awards - one for a park superintendent, one for a facility maintenance specialist, and one for a cultural resource specialist - were created to encourage creativity in cultural resource stewardship and management practices and projects, particularly those that may serve as examples or models for programs service-wide.

Stephanie Toothman, the agency's Associate Director for Cultural Resources, Partnerships, and Science, stated, "Superintendent Fortmann has led her staff in expanding interpretive and educational programs at this urban national park that reflect all of the site's layers of history, capitalizing on innovative media and cooperation with regional and community partners. In addition, Superintendent Fortmann has been recognized by Pacific Northwest Tribes and our American Indian Liaison Office for her outstanding efforts to build a meaningful relationship with the over 30 American Indian Tribes who have a close connection with the site."

Superintendent Fortmann said, "I am truly honored to be recognized nationally for my work at Fort Vancouver National Historic Site. My desire to make a difference here in our community has always been much more than just a job. From the first moment I arrived here, I felt a heartfelt connection with the amazing history of the people who made us who we are today here in the Pacific Northwest." She also added, "This award and what I have achieved is due to the incredibly gifted National Park Service employees, our selfless and dedicated volunteers, and the exceptional partners I work closely with each and every day. This award is really for them and our community."

The award is being presented by National Park Service Deputy Director Peggy O'Dell on Tuesday, February 23, in Washington, D.C. As a part of the ceremony, Superintendent Fortmann will be giving a presentation about Fort Vancouver and her work to the national directorate.