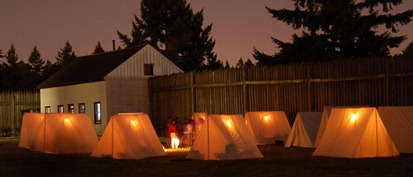 News Release Date:
August 7, 2012
Contact: Cassie Anderson, (360) 816-6247
Fort Vancouver National Historic Site Celebrates 96th Birthday of the National Park Service by Inviting Kids to Excavate, Get Crafty, Spend the Night in Their Urban National Park, and More!
VANCOUVER, WA:Fort Vancouver National Historic Site will celebrate the 96th birthday of the National Park Service by holding an array of fun, immersive, and educational programs on Saturday, August 25. Highlights include archaeology digs and a chance for families to travel back in time and spend the night inside the reconstructed fort. A full list of activities is at http://go.usa.gov/fOr.
National Park Service Director Jon Jarvis will unite sites throughout the national park system on August 25 by "inviting the children of America to experience the treasures and wonders of national parks across the nation - to experience these places that are theirs." Celebrate the birthday of your national parks on August 25 by exploring Fort Vancouver National Historic Site.
"Birthdays are a time to celebrate and we want everyone, especially the children of America, to join the party," said Park Superintendent Tracy Fortmann "National parks belong to all Americans and offer something for everyone - so visit the park, excavate like the archaeologists, wander a trail, hear the clang of the blacksmith's hammer, smell the smoke from a historic weapons demonstration, or spend the night in the fort."
"August 25th is your last chance to spend the night in the fort this summer!" said park ranger Cassie Anderson. "For a truly unforgettable experience in your national park, camp close to home and spend the night inside the reconstructed stockade with your family - 1840s style!" Registered attendees can set up an 1840s tent, eat dinner cooked over the fire, tour the fort by twilight, and share spooky stories in the dark of the Bastion. The 1840's Overnighter includes dinner, breakfast, a tour of the fort, and many hands-on activities. The cost is $35 a person, recommended for families and ages 5 and up. Advanced registration is required through Fort Vancouver's partner, Vancouver-Clark Parks and Recreation: http://www.cityofvancouver.us/parks-recreation/index.asp. The camp is #90049 in the catalogue.
In addition to Fort Vancouver National Historic Site's daily programs - a free 11:00 a.m. Flora, Fauna, and Future hike across the Land Bridge, a free 1:00 p.m. historic weapons demonstration, and a free 3:00 p.m. Vancouver Barracks Walk - the National Park Service is also offering youth a change to dig into history with an 11:00 a.m. Kids Dig. During Kids Digs, youth aged 8-12 are introduced to archaeology by participating in a mock dig, mapping their artifact finds, and filling out site forms. As youth excavate and screen with the help of park staff and volunteers, we discover how we learn from archaeology and why we should preserve these pieces of our past. Information and dates available at: http://go.usa.gov/fOr
On August 25, kids will also be able to visit real archaeologists in the field at this year's dig site in the South Vancouver Barracks. Stroll along the Land Bridge Trail and follow the signs to the excavation units. Once there, find out what Oregon Archaeological Society archaeologists and current archaeology students are discovering about life in the eras of the Hudson's Bay Company and US Army in the park's Public Archaeology Field School. Information and hours for the Public Archaeology Field School is at http://go.usa.gov/fO1.
96th birthday festivities continue at the McLoughlin House in Oregon City. Join National Park Service staff and volunteers for Family Friendly Craft Day at the McLoughlin House Unit on August 25 from 12:00-4:00 p.m. All supplies are provided; all McLoughlin House crafts are free. Be inspired in your national park, and create historically-influenced crafts to take home!
Want to learn even more about the site while you're here? There's an app for that! The Fort Vancouver Mobile app is the first interpretation-oriented app in the national park system, and is designed as an interface for narrative immersion into a historical place. Downloading the app (through the Android or Apple markets) opens up interactive stories connected to physical landmarks, synthesizing a digital and physical experience at Fort Vancouver National Historic Site. The first two modules focus on Native Hawaiians (created in partnership with the Ke Kukui Foundation) and Irish-born painter Paul Kane. Other modules, such as a story focused on gender and women at the site, will be released at later special events. A behind-the-scenes blog on the project is being kept at: www.FortVancouverMobile.net.
The National Park Service was established on August 25, 1916. The United States was the first country in the world to set aside its most significant places as national parks so that they could be enjoyed by all. Today, we care for 397 national parks throughout the country - each one an important part of our collective identity. Some parks commemorate notable people and achievements, others conserve magnificent landscapes and natural wonders, and all provide a place to have fun and learn something.
Other national parks in the region and across the country are also celebrating the National Park Service's 96th birthday. Visitors can enjoy activities at nearby units of the national park system, including Lewis and Clark National Historical Park, Crater Lake National Park, and Mount Rainier National Park. Plan your visit at www.nps.gov/findapark.
The mission of the National Park Service extends beyond parks into communities across the country where we work with partners to help preserve local history and create close-to-home recreational opportunities that revitalize neighborhoods and enhance the quality of life. To see what we do here in Washington State, go to www.nps.gov/wa.
COST: 1840s Overnighter costs $35/person. Kids Dig costs $3 per adult, but youth are free. All other programs are free.
WHEN: Saturday, August 25, 2012. Activity times vary; available at: http://go.usa.gov/fOr.
WHERE: Fort Vancouver National Historic Site, 1001 E 5th St. Vancouver, WA 98661.
BACKGROUND: Fort Vancouver National Historic Site is one of the 397 national parks which make up the National Park System and it is located in both Washington and Oregon.This national park is also the heart of the Vancouver National Historic Reserve which is located in Vancouver, Washington. The Vancouver National Historic Reserve brings together a national park, a premier archaeological site, the region's first military post, an international fur trade emporium, one of the oldest operating airfields, the first national historic site west of the Mississippi River, and a waterfront trail and environmental center on the banks of the Columbia River. The partners of the Reserve teach visitors about the fur trade, early military life, natural history, and pioneers in aviation, all within the context of Vancouver's role in regional and national development. The Reserve's vast array of public programs -- including living history events, festivals, cultural demonstrations, exhibits, active archaeology, and other special activities - serve communities in Washington and Oregon and create a dynamic, fun, and unique tourist destination for people of all ages.
-NPS-