National Park to Host Over 1,500 Students for Annual Children's Cultural Parade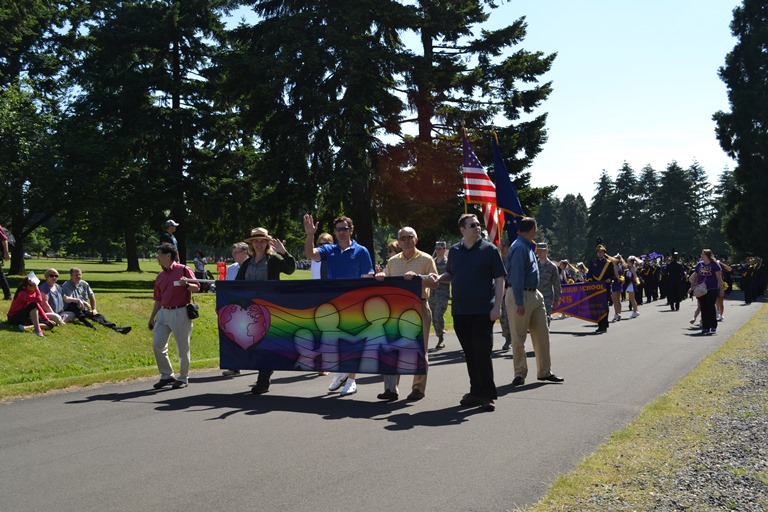 News Release Date:
May 10, 2016
Contact: Bobby Gutierrez, Park Ranger, (360) 816-6247
Contact: Bob Cromwell, Acting Chief Ranger, (360) 816-6253
In support of local students and in celebration of the region's historical diversity, the National Park Service and the Evergreen and Vancouver School Districts are proud to again host the annual Children's Cultural Parade at Fort Vancouver National Historic Site on Friday, May 27, 2016.
The Children's Cultural Parade begins at 10:15 am at the national park's Pearson Air Museum (1115 E Fifth Street, Vancouver, WA 98661) and continues north on East Reserve Street, turning west on Evergreen Boulevard, and finally turning south to follow the Park Road across East Fifth Street straight into the national park's reconstructed fur trade-era fort (1001 E Fifth Street, Vancouver, WA 98661).
The parade will include school marching bands and over 1,500 third and fourth grade students celebrating the community's diversity. "These school children have worked hard for months of classroom instruction and studied cultures from around the globe while rediscovering their family's and their community's cultural heritage," said Tracy Fortmann, Superintendent of Fort Vancouver National Historic Site.
City of Vancouver Mayor Tim Leavitt, Superintendent Tracy Fortmann, and school district leaders will lead the parade throughout Fort Vancouver National Historic Site, one of 411 units of the National Park System.
Once the students enter the reconstructed stockade, National Park Service volunteers will greet visitors wearing 1840s traditional clothing, highlighting Vancouver's diverse past.
The Vancouver Community Concert Band, under the direction of Dr. Jim Rourk, will provide instrumental music inside the reconstructed stockade. In celebration of the National Park Service Centennial, students will accompany the band with a performance of a commemorative song: "Children's Earth Anthem," written by Charles Eversole. Come and enjoy this performance, as students celebrate the first hundred years of National Park Service stewardship, and help encourage future generations to explore, enjoy, and protect their national parks.
The entire procession will rest on the lawn in front of the reconstructed Chief Factor's House to hear music and brief remarks from the mayor, superintendent, dignitaries, and featured students. The public is strongly encouraged to join the students, mayor and dignitaries at 11 am inside the reconstructed fort. The fort's entrance fee will be waived for the event, which is scheduled to conclude at 11:45 am.
"Over 170 years ago, Fort Vancouver stood as the center of cultural diversity in the Pacific Northwest," said Fortmann, "so it is very appropriate that we continue to celebrate our diversity here, in this nationally significant place - our national park. This event best exemplifies how this national park belongs to everyone, and it's a special opportunity for each student to celebrate diversity with family, classmates, and our supportive community at one of our national treasures."
"We encourage families, friends, and supporters to bring chairs and cheer on the kids of our community," said Park Ranger Bobby Gutierrez. "An ideal viewing area is anywhere along the Park Road or the pathway leading from East Fifth Street into the reconstructed stockade."
Parking is available on the national park campus and in surrounding areas. Before 9:30 am, parking is available at the reconstructed fort and Visitor Center parking lots. Additional street parking is available.
Students, spectators, and all members of the public are also invited to visit the park's Visitor Center and Pearson Air Museum, both of which are free of charge.
Last updated: May 10, 2016