Become a Junior Ranger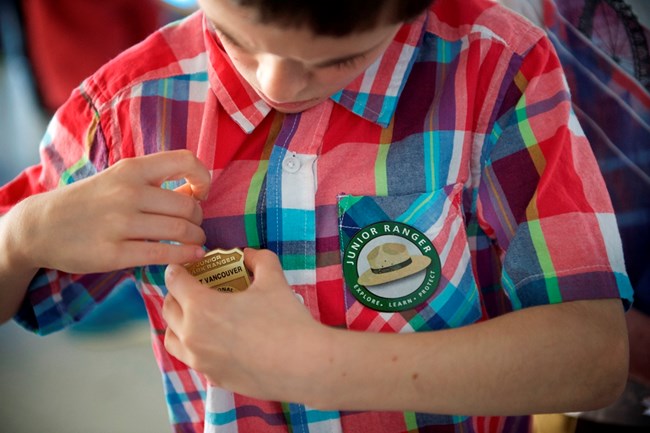 Anyone can become a Junior Ranger if they are ready to learn about Fort Vancouver National Historic Site and have fun! As a Junior Ranger, your responsibility is to enjoy and protect all the national park sites you visit.
The Junior Ranger booklet is available at the fort, Pearson Air Museum, and the Visitor Center. It's free for kids and kids-at-heart of all ages. Once you complete your booklet, you'll be officially "sworn in" and receive their Junior Ranger badge!
Printable version below. It is best when printed on legal size (8.5" x 14") paper.
Become a Junior Ranger
at Pearson Air Museum
What can you see, hear, and feel at Pearson Air Museum? Use your senses to learn about the history of flight in Vancouver, Washington. Earn your Junior Ranger Badge by completing at least one activity in each category (see, hear, and feel) on the checklist. When you're done exploring, head to the museum lobby to tell a Park Ranger what you found.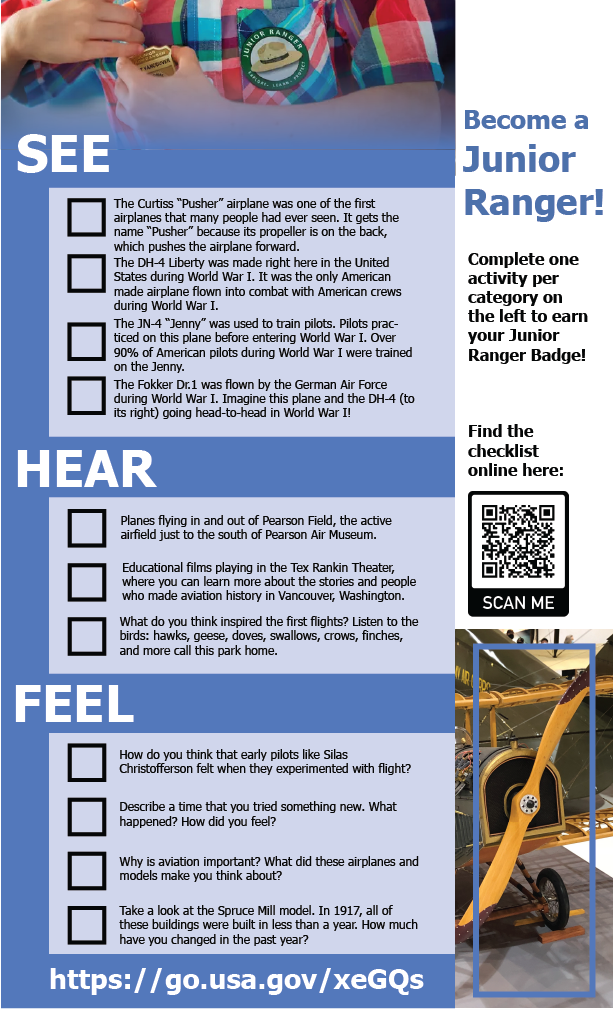 Complete at least one item in each category.
See
life-size and model aircraft from the early aviation era.
See
a scaled model of the massive Spruce Cut-Up Mill which occupied this land during World War I.
See
a life-size tent that Spruce Mill soldiers would have lived in.
Hear
planes flying in and out of Pearson Field, the active municipal airfield just south of the museum.
Hear
the film in the Tex Rankin Theater.
Hear
birds zooming through the park, and consider how they inspired the first flights.
Feel
the excitement and wonder of the world's first flights. Imagine the exhileration that early pilots would have
felt
as they experimented with flight.
Learn more about the National Park Service's Junior Ranger program here.


Last updated: August 30, 2023