Marguerite McLoughlin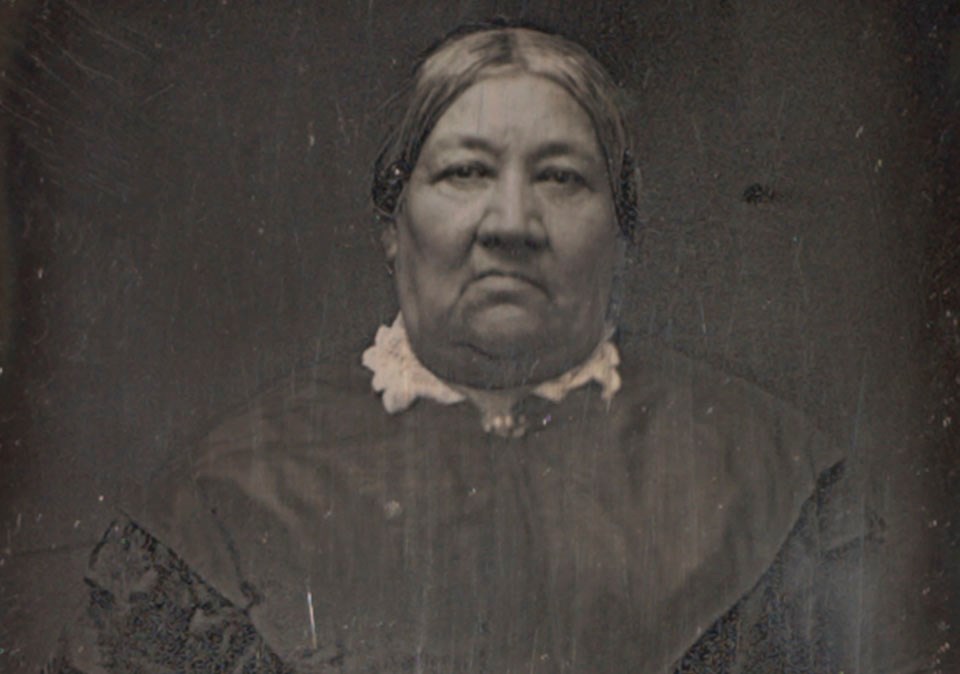 Marguerite Wadin was born around 1775 near Montreal. Her father, Jean Etienne Wadin, was a Swiss fur trader and merchant. The identity of Marguerite's mother is unknown, but she was likely full or part Ojibway or Cree. As a young woman, Marguerite married Alexander McKay, a fur trader for the North West Company, with whom she had one son and three daughters. In 1810, McKay resigned and joined John Jacob Astor's Pacific Fur Company expedition. McKay died in 1811 while on board the HMS Tonquin.
Newly widowed and living at Fort Kaministiquia (later called Fort William) with her daughters (her son, Thomas, had gone with his father and became a ward of the Pacific Fur Company), Marguerite met John McLoughlin. The two entered into a marriage à la façon du pays (literally "in the fashion of the country"), which would last until McLoughlin's death in 1857. These types of marriage were common in the fur trade, often happening between European fur traders and Indian or Métis women. Not officially sanctioned by church or state, these marriages could be informal and easily dissolved, as was the case with Marguerite's marriage to Alexander McKay, or could be long-lasting unions, like her second marriage to John McLoughlin.
McLoughlin informally adopted Marguerite's three daughters, and Marguerite cared for McLoughlin's son, Joseph, from a previous relationship with an unknown Indian woman. Marguerite and John had three children of their own in quick succession: John Jr., born in 1812, Eliza, born in 1814, Eloisa, born in 1817, and David, born in 1821.
In 1824, Marguerite and her two youngest children followed McLoughlin to the Pacific Northwest, where he was assigned by the Hudson's Bay Company with establishing Fort Vancouver. Their two older children - John Jr. and Eliza - stayed behind in Canada to receive educations.
At Fort Vancouver, Marguerite lived a life of relative comfort in the rough-and-tumble Northwest. As the wife of the fort's Chief Factor, Marguerite would not have been required to cook or clean, but she would have spent her days managing servants, looking after children, and doing handwork. She was particularly known for her skills as a seamstress and beader.
In 1842, Marguerite and John McLoughlin were officially married in a Catholic ceremony, an act which had the effect of "legitimizing" their four children in the eyes of the law and the church.
In 1845, McLoughlin resigned from the Hudson's Bay Company and in 1846, the couple moved to Oregon City, where he had built a home. They moved into the home along with their recently-widowed daughter, Eloisa, and her three children. In time, the house would also become home to Eloisa's second husband and three more children.
Marguerite lived the rest of her days in Oregon City. She died in 1860, at the approximate age of 85. Today, her grave rests alongside that of her husband (who died in 1857), and is located next to the McLoughlin House, a unit of Fort Vancouver National Historic Site.
Last updated: May 28, 2016