Superintendent John Tucker To Retire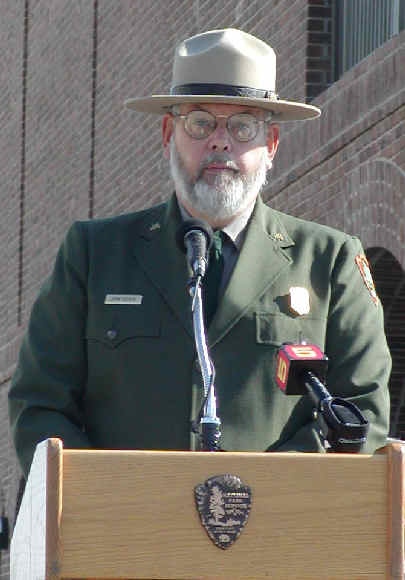 News Release Date:
December 20, 2005
Contact: Bill Martin, 843 883-3123 x 41
John Tucker, superintendent of Fort Sumter National Monument and Charles Pinckney National Historic Site, will retire on January 3rd after a distinguished 35-year career with the National Park Service.
Born in Winston-Salem, North Carolina in 1948, John lived in Lawsonville, a rural Stokes County community, until graduating from North Carolina State University in Raleigh in 1970. There he earned a bachelor of science degree in forestry and a bachelor of science degree in natural resource recreation management.
John began working for the National Park Service on June 1, 1970, the day after his college graduation. His first National Park Service job was at Cades Cove in the Great Smoky Mountains National Park. After finishing a second degree from NCSU, John joined the U.S. Marine Corps Reserve in January 1971 and attended Paris Island Boot Camp. He returned to full time employment with the National Park Service in July 1971 while continuing reserve duty for six years.
After receiving basic ranger training at Albright Training Center in Grand Canyon National Park, John served in Great Smoky Mountains National Park, Cades Cove subdistrict; National Capital Park-East, Washington, D.C.; Ocmulgee National Monument, Macon, Georgia; Cabrillo National Monument, San Diego, California; and as chief ranger at Fort Sumter National Monument (which includes Fort Moultrie) from October 1977 to November 1980.
John served as superintendent of Andersonville National Historic Site from 1980 to August 1989. There he established the first relationships with the American Ex-Prisoners of War and cleared the historic prison camp of vegetation that obscured the historic landscape. While at Andersonville, John also served as the first superintendent of the new Jimmy Carter National Historic Site when it was established in 1988. 
"It was a wonderful experience getting to know President and Mrs. Carter," says John. "Pat and I were honored when they attended our going away party in Plains, Georgia, when I transferred to Fort Sumter."
While at Andersonville, John received the superior service award in 1988. John returned to Fort Sumter as the superintendent in August 1989, just six weeks before Hurricane Hugo struck Charleston. During the next two years, he worked to repair damage to historic structures and to build a new Fort Sumter dock.
While at Fort Sumter, he received the superintendent of the year award in 2002 as well as numerous other awards over the past 35 plus years. In 1988, Congress authorized Charles Pinckney National Historic Site in Mount Pleasant, South Carolina. John has managed the development of the site from its establishment through the park's opening in 1995 to the present.
As superintendent of Fort Sumter National Monument, John is directly responsible for 42 historic structures, ten monuments and memorials, 200 acres comprised of cultural sites, scenes and settings, a curatorial collection of over 250,000 objects, five historic archaeological sites (including two underwater sites) and 45 cannon tubes of which 25 are carriage-mounted. Other notable accomplishments as Fort Sumter superintendent include:
-- Served as deputy incident commander under Rick Gale for the Hurricane Andrew recovery in September 1992.
-- With the reorganization of the National Park Service in 1994, served as Chairperson of the Atlantic Coast Cluster containing 24 National Park units until 1997.
-- Served as superintendent of Moore's Creek National Battlefield, a Revolutionary War battlefield located 20 miles northwest of Wilmington, N.C. from 1995-2001. During that period, the park began a significant project to restore the battlefield savanna to its 1776 appearance. Superintendent Ann Childress of Moore's Creek now manages this resource project.
-- Developed a cooperative seamless park exhibit to highlight South Carolina Lowcountry attractions, state parks, National Heritage Corridor, and other NPS sites in South Carolina though partnerships with the South Carolina Department of Parks, Recreation and Tourism and the Charleston Convention and Visitor's Bureau.
-- Just completed negotiations with the town of Sullivan's Island that will resolve a 40-year dispute between the NPS and the town over the park boundary. Fort Moultrie is being officially added to the National Park System as a named unit with the new legislation. The new park name will be Fort Sumter-Fort Moultrie National Historical Park when passed by Congress. Additionally, the legislation will provide an officially designated boundary and transfer the Charleston Light to the NPS for preservation as the last American lighthouse constructed.
John's crowning achievement came with managing the construction of the Fort Sumter Visitor Education Center and tour boat facility in the City of Charleston, culminating a $15 million project. Included in the center were the first NPS exhibits to directly discuss the wide range of causes of the Civil War, including the issue of slavery. Since the site was historically contaminated from a nearby coal gasification plant, the remediation and final use of the property stands as a model for converting "brown fields" to "green fields". Furthermore, this Service property is home to the South Carolina Aquarium, exemplifying the federal-state-city cooperative effort.
While assigned to Ocmulgee National Monument in Macon, Georgia in 1973, John married Patricia. She has a degree in nursing and worked as a registered nurse until their son, Justin, was born. Currently she works in sales and marketing for a gourmet food company. Previously, she owned several gift and stationery shops in Americus, Georgia and the Charleston area. Their son, Justin, is chief engineer with a major radio group in Charleston. The family resides in Mount Pleasant, South Carolina, where they plan to remain after retirement.
Last updated: April 14, 2015